Software company Salesforce (CRM) is largely incorporating AI into its operations. Looking at AI's potential after the launch of ChatGPT, should investors consider buying CRM now? Let's look at its financial metrics to know more…
Customer relationship management technology provider Salesforce, Inc. (CRM) is moving aggressively toward incorporating Artificial Intelligence (AI) in its operations.
The company's venture capital fund, focused on generative AI, is set to increase to $500 million from the initial $250 million announced in March, thereby leveraging the market storm created by ChatGPT.
This month, CRM announced AI cloud, a suite of capabilities optimized for delivering open and real-time generative experiences across all applications and workflows. In the same month, the company introduced Marketing GPT and Commerce GPT, bolstering its AI capabilities.
In May, CRM also unveiled its conversational AI, Slack GPT, which works with the previously-introduced Einstein GPT to boost an organization's productivity through conversational data.
AI's significant potential could help the company boost its sales. According to Bloomberg Intelligence analysts, generative AI may produce $1.3 trillion in sales of hardware, software, services, and other tools by 2032. 
Given this backdrop, let's look at the trends of some of CRM's key financial metrics to understand why it could be beneficial to buy the stock now.
Analyzing Salesforce's Financial Performance: Revenue, Gross Margin, Asset Turnover, and Analyst Price Target Trends
The trend and fluctuations of the trailing-12-month revenue for CRM can be summarized as follows:
July 2020: $19.38 billion

October 2020: $20.29 billion

January 2021: $21.25 billion

April 2021: $22.35 billion

July 2021: $23.54 billion

October 2021: $24.98 billion

January 2022: $26.49 billion

April 2022: $27.94 billion

July 2022: $29.32 billion

October 2022: $30.29 billion

January 2023: $31.35 billion

April 2023: $32.19 billion
Focusing on more recent data and emphasizing the last value, we can observe a consistent growth in revenue over the entire period, from $19.38 billion in July 2020 to $32.19 billion in April 2023. The growth rate, calculated by comparing the latest value to the first one in the series, comes out to be around 66%.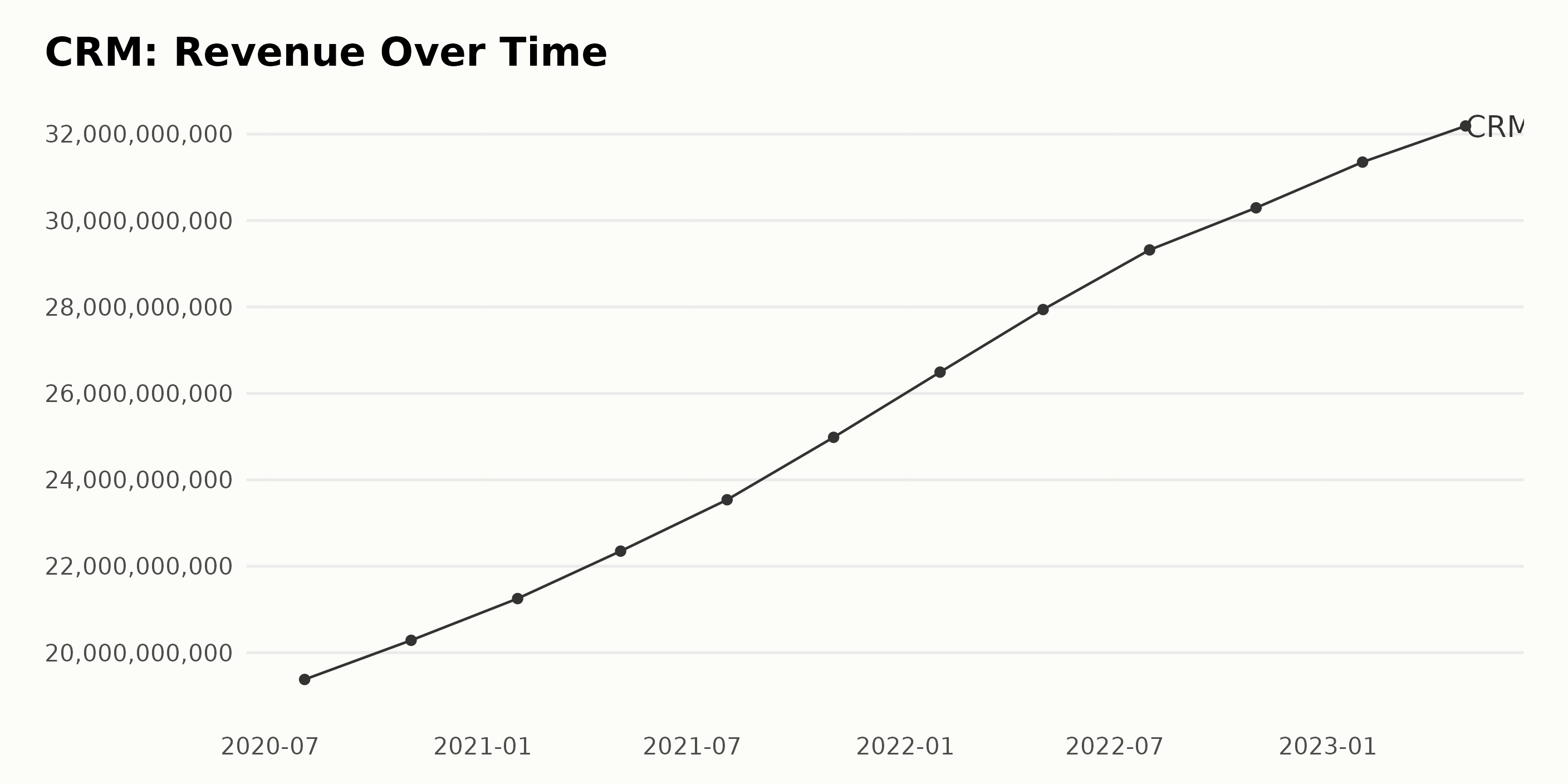 The gross margin of CRM has experienced fluctuations over the series of data provided for a period between July 2020 and April 2023. Here is a summary of the trend and fluctuations:
July 2020: 74.6%

October 2020: 74.5%

January 2021: 74.4%

April 2021: 74.3%

July 2021: 74.3%

October 2021: 74.0%

January 2022: 73.5%

April 2022: 73.1%

July 2022: 72.6%

October 2022: 72.7%

January 2023: 73.3%

April 2023: 73.8%
The data shows a general declining trend in the gross margin from 74.6% in July 2020 to its lowest at 72.6% in July 2022. However, a slight uptick is observed in the recent values of 72.7% in October 2022 and 73.8% in April 2023.
The growth rate between the first (July 2020) and last (April 2023) values is approximately -0.8%. While there has been a decline, the recent increase indicates that CRM's gross margin may be recovering.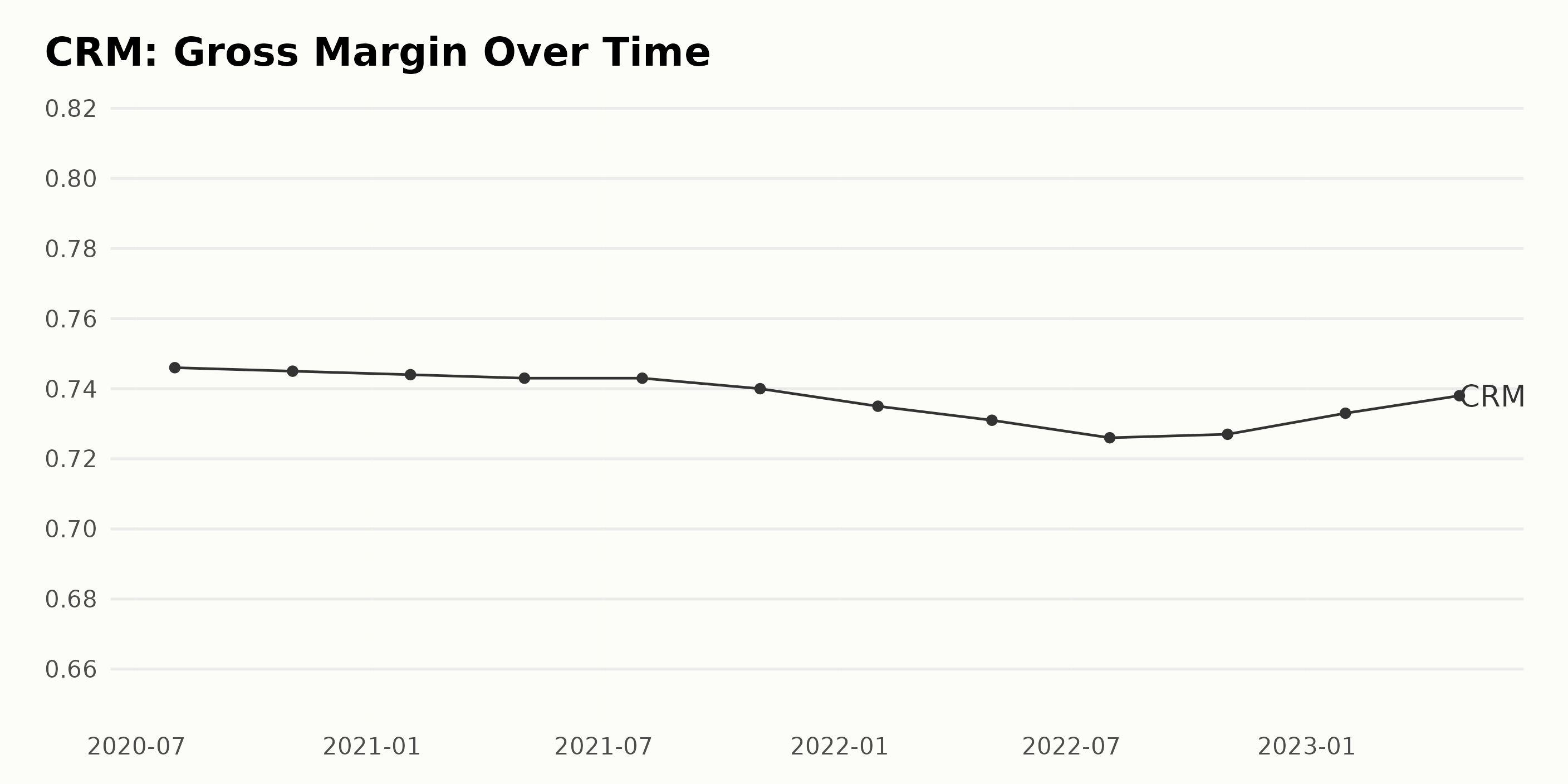 The asset turnover of CRM has experienced fluctuations between July 2020 and April 2023. Here's a summary of the trend and fluctuations:
In July 2020, the asset turnover was 0.36

From July 2020 to October 2021, the asset turnover experienced slight fluctuations, ranging between 0.36 and 0.33

Between November 2021 and April 2022, there was a downward trend, with asset turnover decreasing from 0.33 to 0.31

However, improving performance is observed starting from July 2022, with the asset turnover consistently increasing and reaching 0.34 in April 2023
Comparing the first and last values in the series, the overall growth rate is approximately -5.3%. While there were fluctuations during this period, the most recent trend indicates an improvement in CRM's asset turnover.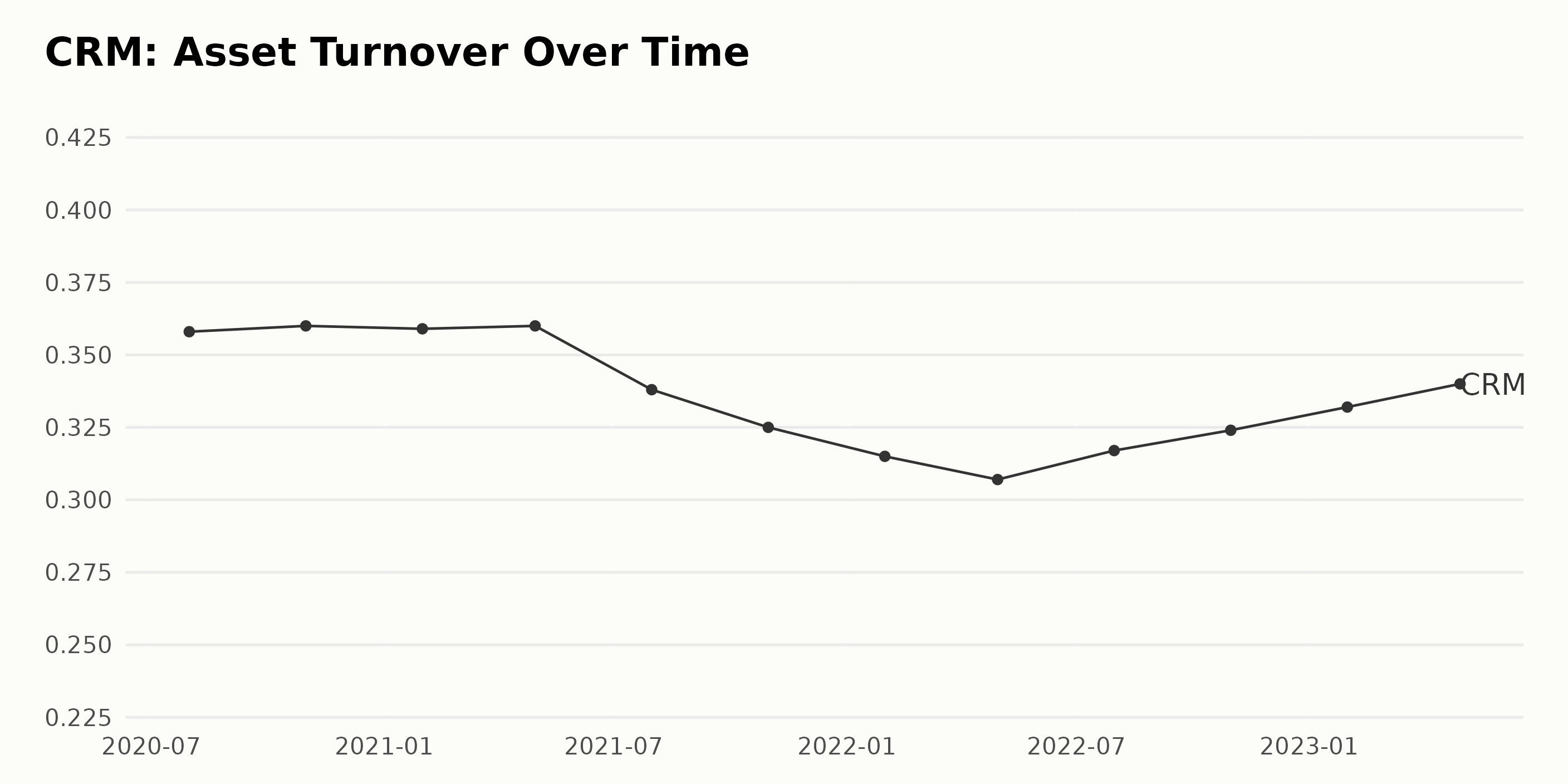 The analyst price target for CRM has experienced fluctuations over the reported period, with some noticeable shifts. Here are the key trends and data points:-
The price target initially saw a gradual increase from $322.5 on November 12, 2021, to its peak at $325 on December 3, 2021, and remained stable until February 10, 2022.

A sudden drop occurred between May 20, 2022, and June 8, 2022, when the price target fell from $310 to $250.

The series hit a low point of $180 by October 2022, representing a decrease of over 50% from its highest point.

After, there is a significant uptrend, hitting $225 on May 26, 2023, and again increasing to $240 as of June 21, 2023.
To summarize, CRM's analyst price target data demonstrates a downtrend until October 2022, followed by a steady recovery and uptrend. The most recent value in the series is $240, showing it has grown significantly from its lowest value.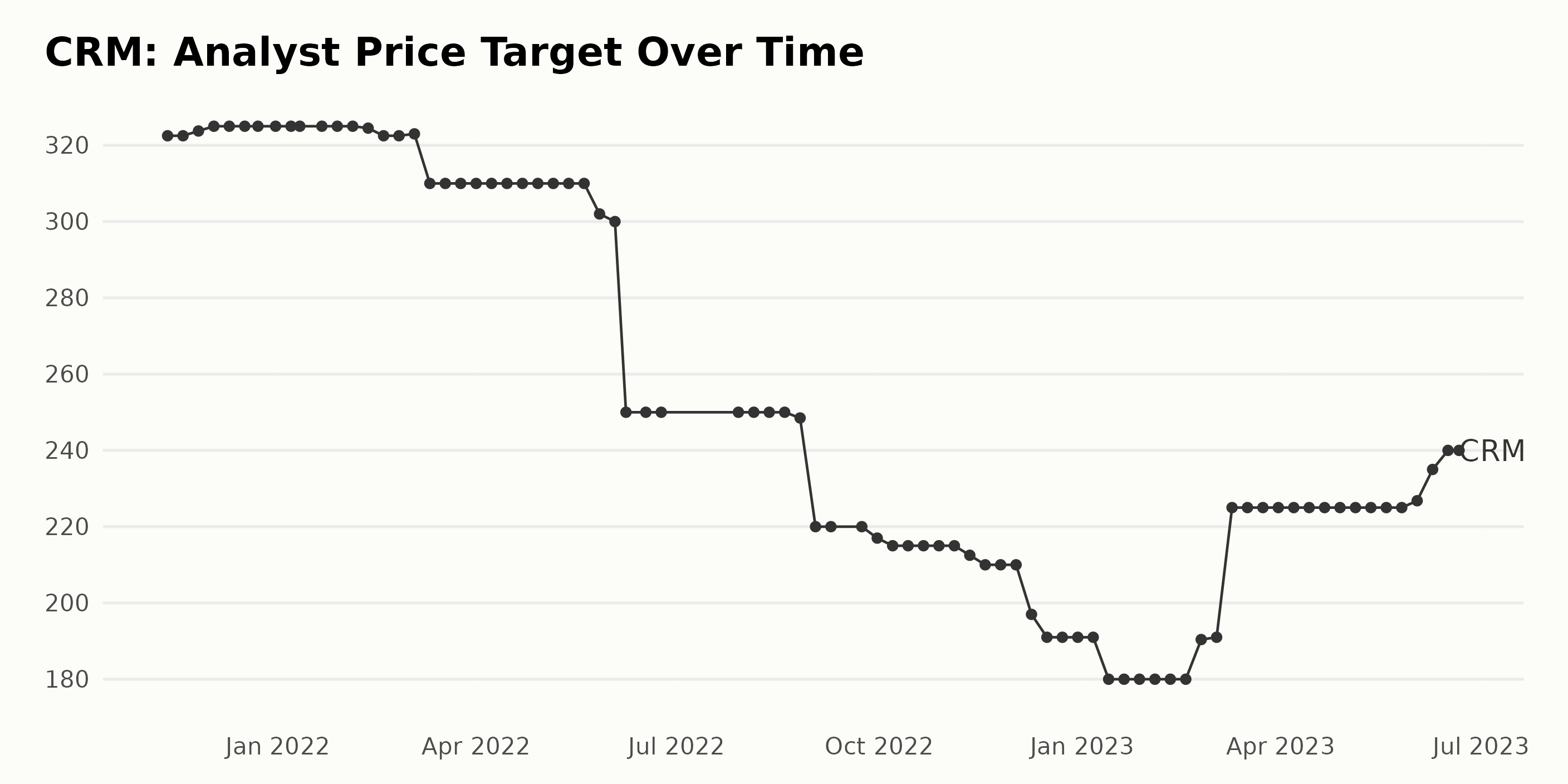 Salesforce Share Price: An In-Depth Look at Six Months of Growth
Analyzing the data provided, the share price of CRM demonstrates an overall upward trend during the period between December 23, 2022, and June 20, 2023.
The growth rate accelerates in general but also sees some periods of deceleration. From the beginning of January to mid-February 2023, growth has significantly accelerated.
There is a short deceleration period between February 17 and February 24, 2023. Then, the growth rate resumes acceleration from early March until early June 2023, though with some slight fluctuations. Here is a chart of CRM's price over the past 180 days.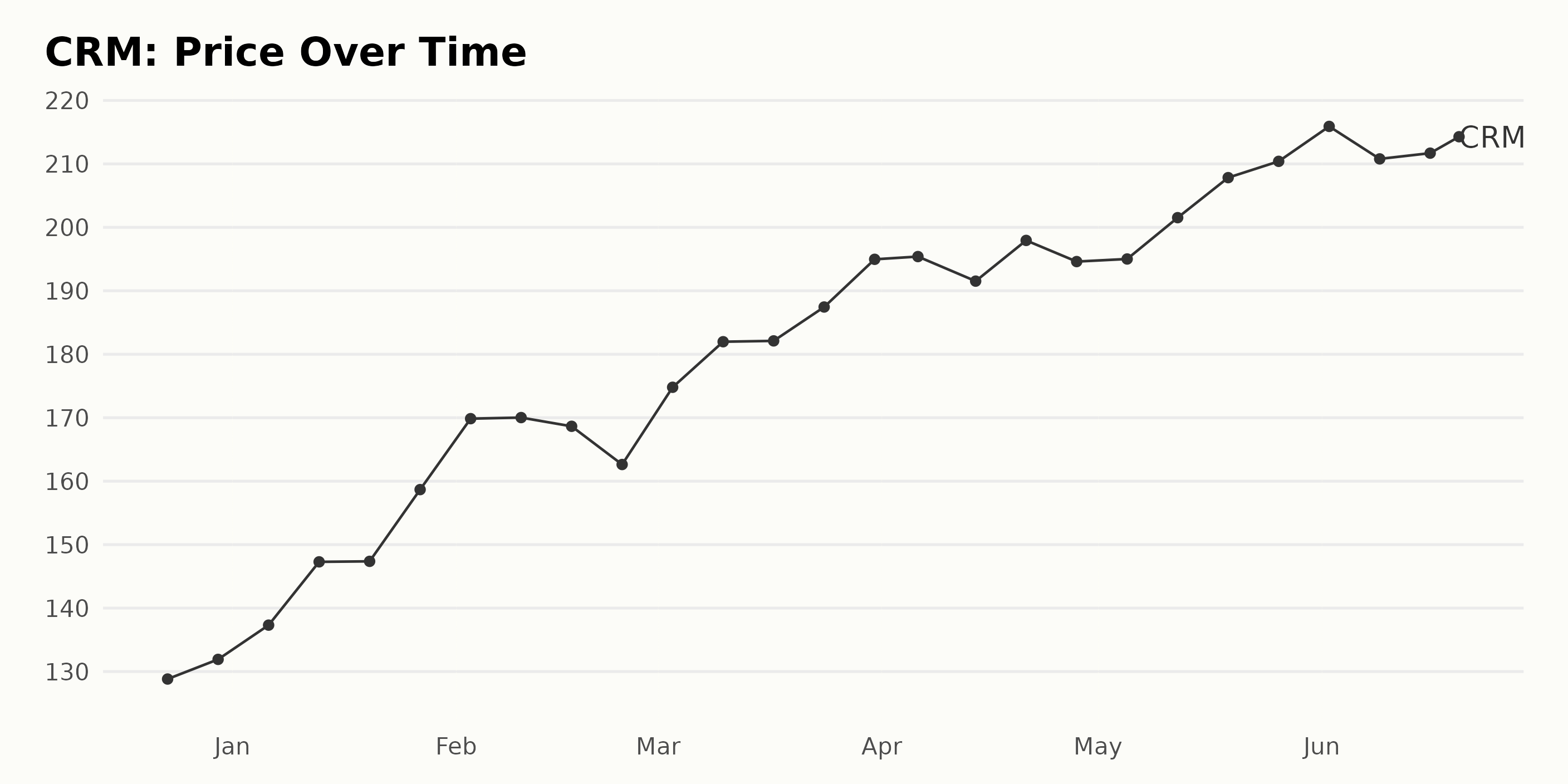 Analyzing Salesforce's Growth, Sentiment, and Quality: December 2022 - June 2023
CRM, a stock in the 135-stock Software - Application industry, has shown a fluctuating trend in its overall POWR Ratings grade and rank in the category over the period provided.
CRM's latest POWR Ratings grade is A, which equates to a Strong Buy, with a rank-in-category of #8. Below are some highlights of CRM's POWR grade and rank-in-category over the given time frame:
December 24, 2022: POWR grade: B, rank-in-category: #15

January 7, 2023: POWR grade: B, rank-in-category: #17

February 4, 2023: POWR grade: B, rank-in-category: #27

March 11, 2023: POWR grade: B, rank-in-category: #17

April 29, 2023: POWR grade: B, rank-in-category: #14

May 20, 2023: POWR grade: B, rank-in-category: #15

June 3, 2023: POWR grade: A, rank-in-category: #10

June 17, 2023: POWR grade: A, rank-in-category: #7
In conclusion, CRM's POWR Ratings grade has recently improved from B (Buy) to A (Strong Buy), with its rank-in-category showing an overall upward trend, placing it among the top-performing stocks in its industry.
The POWR Ratings for CRM indicate three noteworthy dimensions among the six given dimensions from December 2022 to June 2023. Growth, Sentiment, and Quality are the most important dimensions during this period. Below are the details of these dimensions. 
Growth: This dimension consistently maintains the highest rating throughout the months under consideration. The growth value remains constant at 96.
December 2022: 96

January 2023: 96

February 2023: 96

March 2023: 96

April 2023: 96

May 2023: 96

June 2023: 96
Sentiment: This dimension sees a significant upward trend during this timeframe, with a slight decrease in January 2023. It goes from 91 in December 2022 to 92 in June 2023, peaking at 98 in March and April 2023.
December 2022: 91

January 2023: 88

February 2023: 88

March 2023: 98

April 2023: 98

May 2023: 96

June 2023: 92
Quality: This dimension showcases an upward trend, increasing from 70 in December 2022 to 87 in June 2023, marking a significant enhancement in performance over time.
December 2022: 70

January 2023: 70

February 2023: 70

March 2023: 75

April 2023: 76

May 2023: 79

June 2023: 87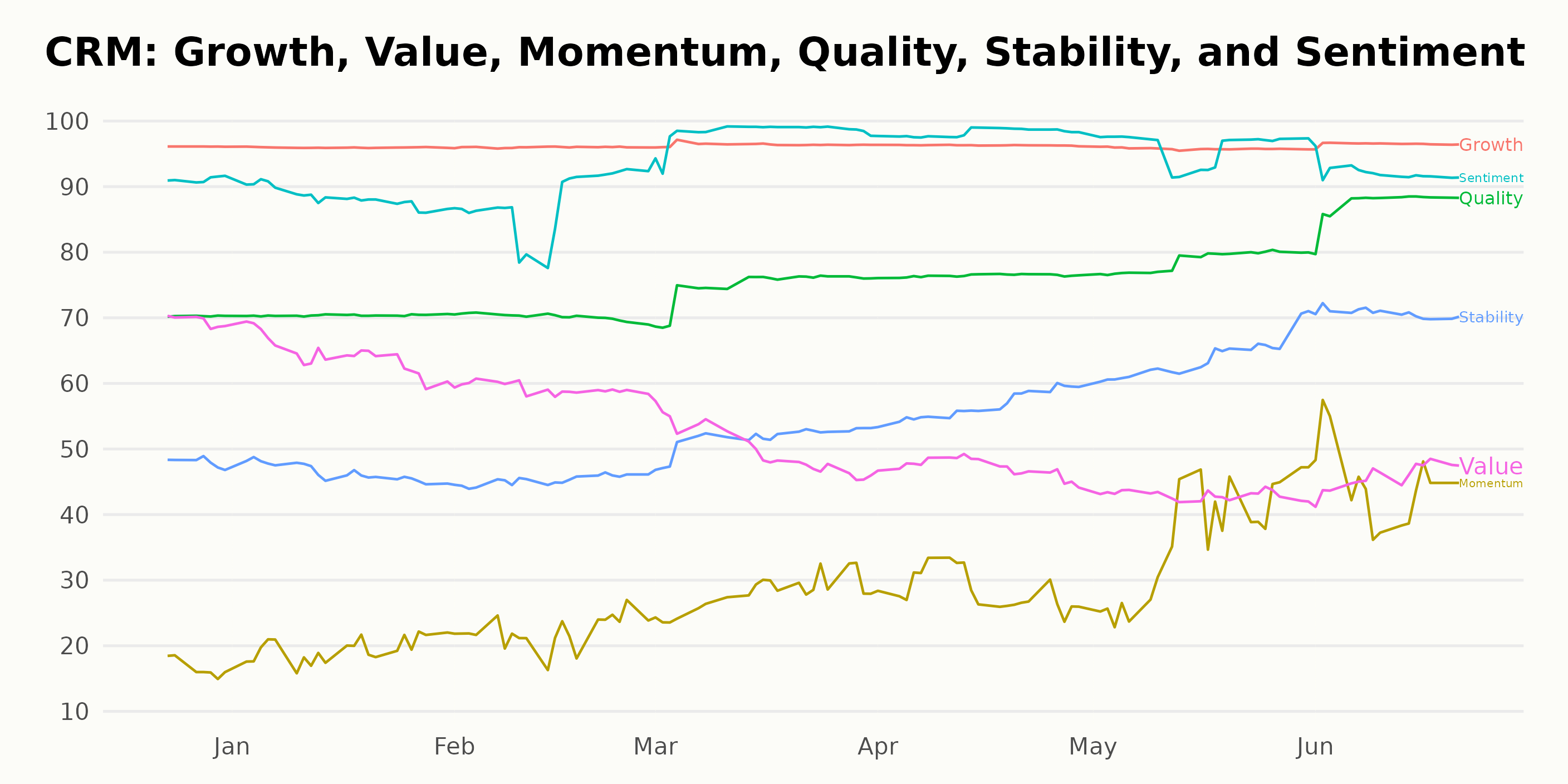 How does Salesforce Inc. (CRM) Stack Up Against its Peers?
Other stocks in the Software - Application sector that may be worth considering are eGain Corporation (EGAN), Commvault Systems, Inc. (CVLT), and IBEX Limited (IBEX) - they also have an overall A (Strong Buy) rating.
Is the Bear Market Over?
Investment pro Steve Reitmeister sees signs of the bear market's return. That is why he has constructed a unique portfolio to not just survive that downturn...but even thrive!
Steve Reitmeister's Trading Plan & Top Picks >
---
CRM shares were trading at $210.96 per share on Wednesday afternoon, down $6.01 (-2.77%). Year-to-date, CRM has gained 59.11%, versus a 14.79% rise in the benchmark S&P 500 index during the same period.
---
About the Author: Anushka Dutta
Anushka is an analyst whose interest in understanding the impact of broader economic changes on financial markets motivated her to pursue a career in investment research.
Salesforce (CRM): Should Investors Buy This Stock Now?
appeared first on
StockNews.com