The burgeoning prospects of the global cryptocurrency sector is being clouded by heightened regulatory actions. Hence, would it be wise to buy crypto tech provider Coinbase Global (COIN) now? Let's look at its key financial metrics to get an idea…
Coinbase Global, Inc. (COIN) is a prominent financial infrastructure and technology provider for the crypto-economy worldwide. This company could benefit from the growing crypto market, with revenue projected to reach $37.87 billion this year.
However, top cryptocurrencies face regulatory pressures and have pulled back from their 2023 highs, with Bitcoin prices dropping below $28,000 in May. Jonathan Shiery, partner at Guidehouse Financial Services, believes that regulatory crackdown will continue to cloud the market in June.
Given this backdrop, it could be wise to avoid COIN now. Let's look at the trends of some of its key financial metrics to understand why.
Analysis of COIN's Net Income, Revenue, ATO, and Target Price
The net income of COIN reported a steady increase from $10.83 million at the end of 2020 to $30.97 billion at the end of 2021. However, from 2022 onwards, there have been some fluctuations in the net income amount.
The net income dropped to -$26.25 billion at the end of 2022 and then decreased further to -$22.74 billion at the end of 2023. This represents a -209.8% growth compared to the first value, which is a significant decrease.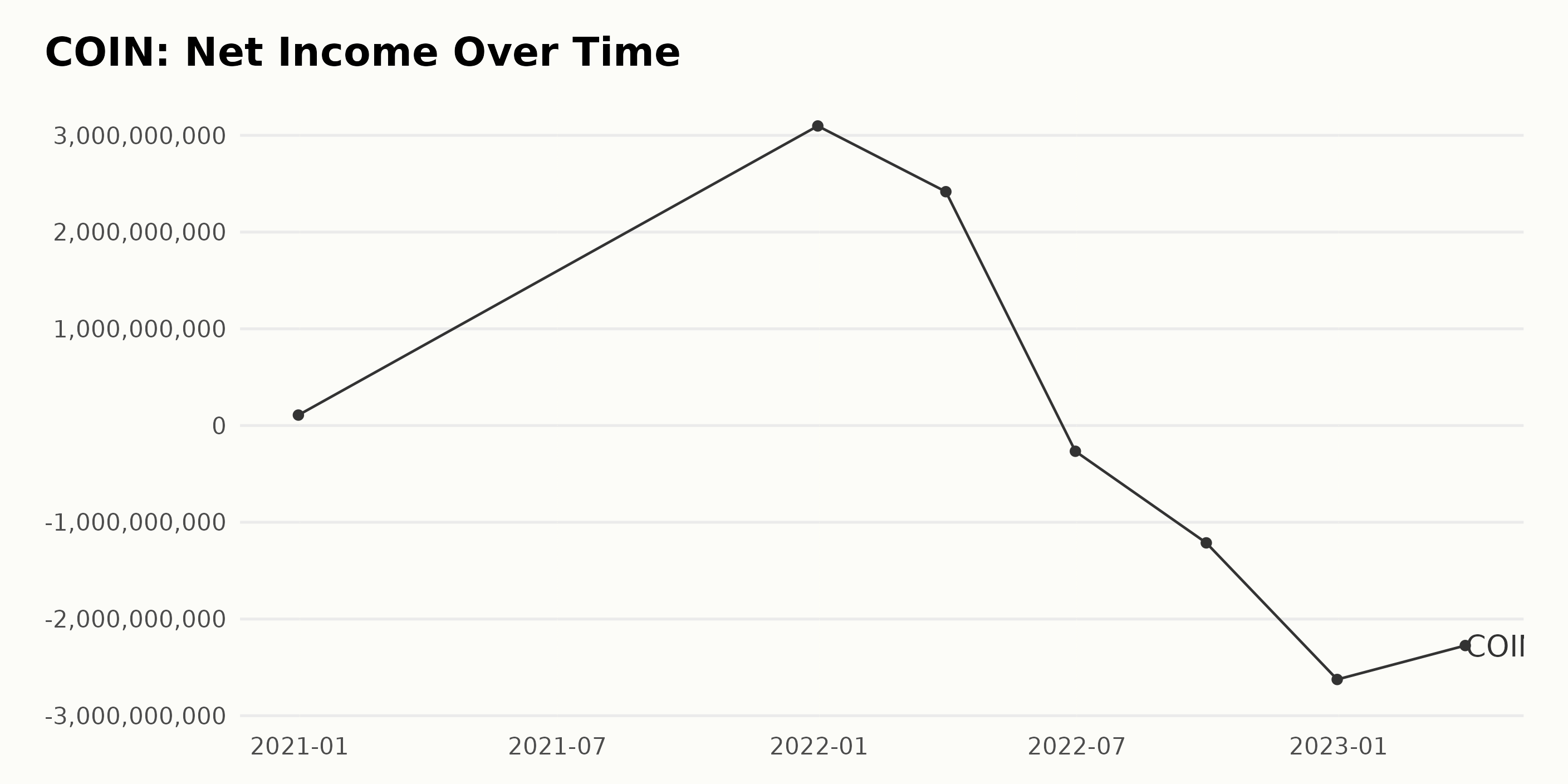 COIN's revenue has been fluctuating since 2020. In December 2020, its revenue was $1.28 billion. This increased to an all-time high of $7.83 billion in December 2021. By March 2022, it dropped to $7.20 billion and then further declined to $5.79 billion by June 2022 and $5.06 billion by September 2022.
The last reported revenue for COIN was $3.19 billion in December 2022, which is a growth rate of 149% compared to its first reported revenue of $1.28 billion in December 2020.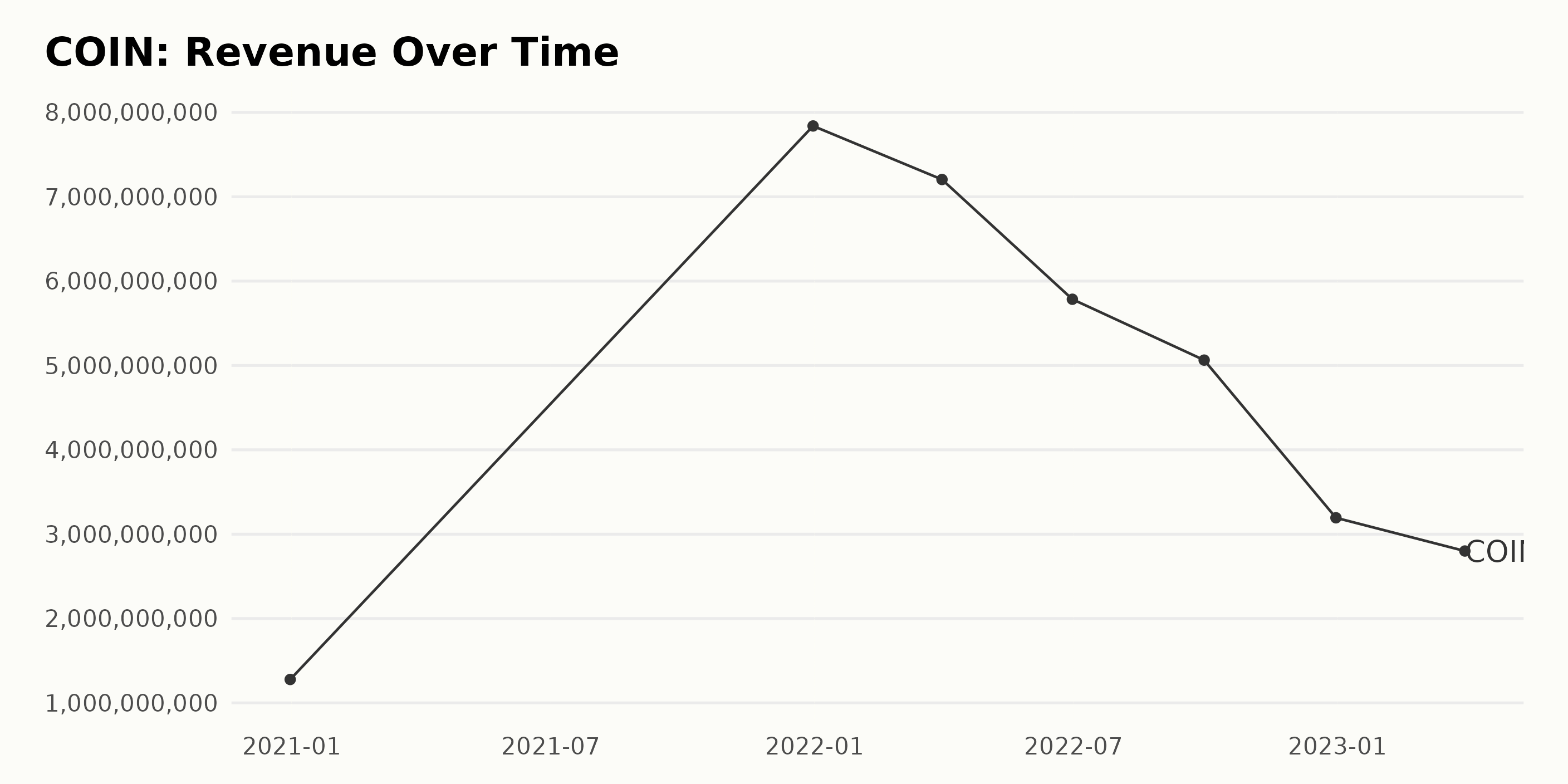 The Asset Turnover (ATO) of COIN has generally decreased over the past year and a half, from a high of 0.477 on December 31, 2021, to a low of 0.025 on March 31, 2023. The ATO decreased by 33% between 2021 and 2022 and by 69% from 2022 to 2023. The most recent data point shows that this series' ATO is at its lowest level.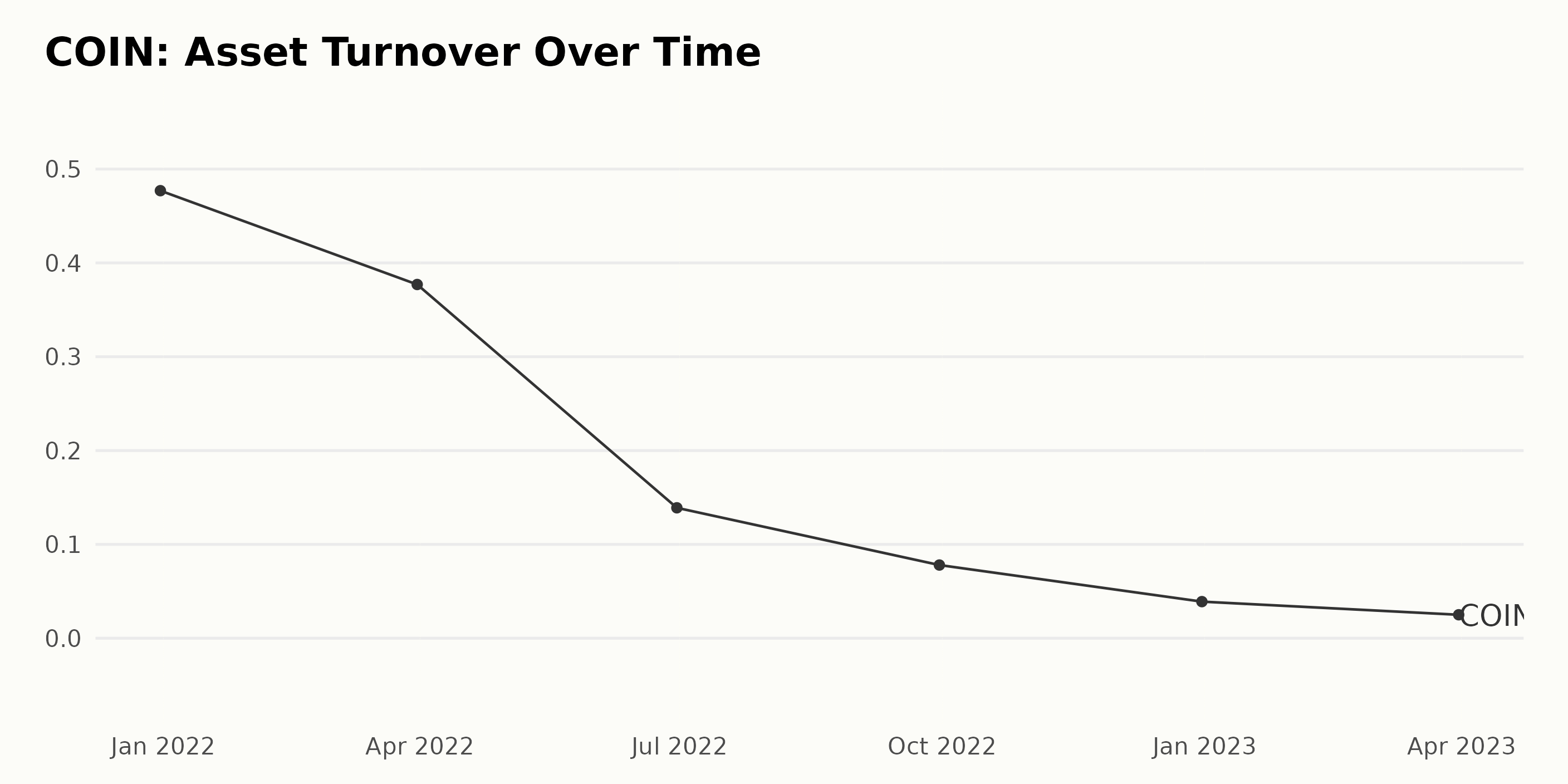 The analyst price target for COIN fluctuated between $360 and $61 over the past two years. There was a gradual decrease in the reported value over this period, with an overall growth rate of -83%. The most recent coordinate in the series is at $63, which is significantly lower than the initial value in 2021.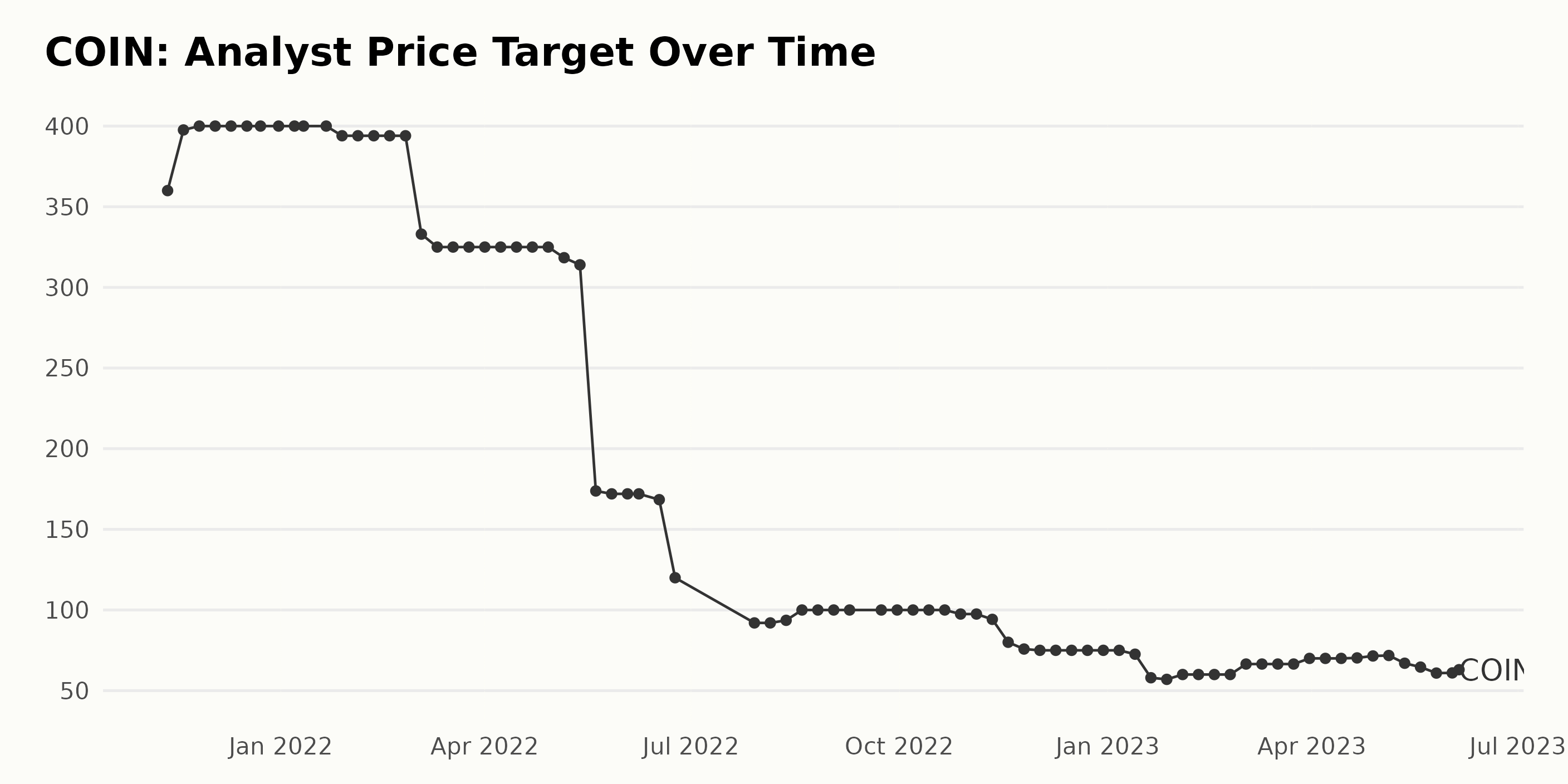 COIN Stock Price Soars 55.54% from December 2022 to June 2023
The trend of COIN share prices from December 2022 to June 2023 has been increasing. The share price grew from $41.84 on December 9, 2022, to a peak of $73.91 on March 24, 2023.
Over the course of the period, the price rose 55.54%, from an initial increase of 15.5% by January 6, 2023, followed by a sustained level of growth averaging 5.2% per month until the peak. Here is a chart of COIN's price over the past 180 days.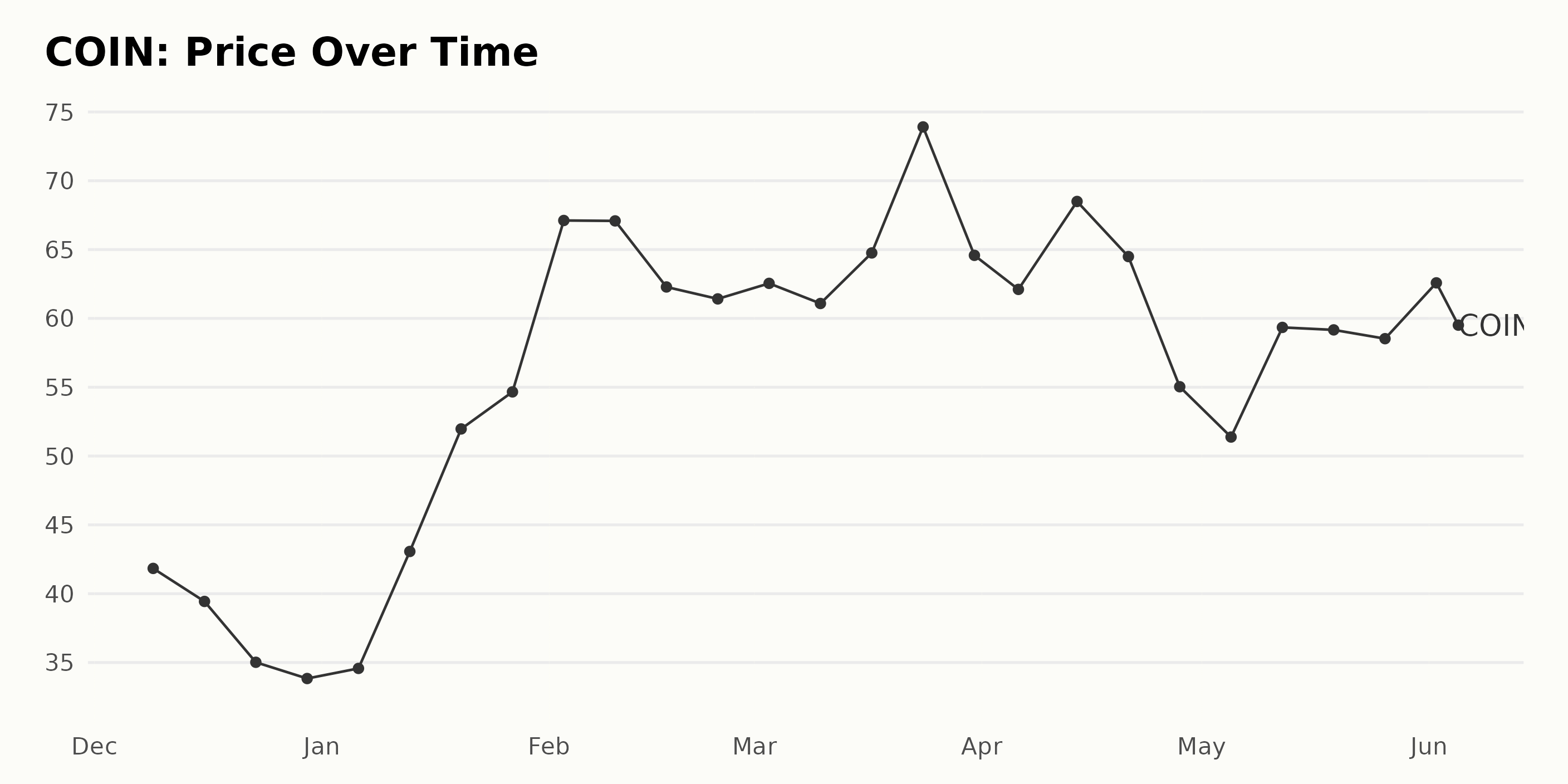 COIN: Steady Momentum & Quality Ratings, Low Sentiment & Dramatic Growth
The overall POWR Ratings grade of COIN is currently D, equating to Sell. This rating is based on the rank-in-industry, which indicates COIN ranks #125 among its peers in the D-rated Software - Application industry (out of 134 stocks). The D grade is an improvement from its F rating at the beginning of the period when its rank was #130.
The POWR Ratings for COIN show that the highest-rated dimension has been Momentum over the last six months. The Momentum rating has steadily increased from 21 on December 31, 2022, to 42 on May 31, 2023.
The Quality rating has also consistently remained high, going from a value of 18 in December 2022 to 22 in February 2023 and then dropping to 12 in June 2023.
The Sentiment rating is relatively low, varying from 4 shots in December 2022 to 30 in June 2023. Lastly, the Growth rating has had an ascending trajectory rising from a value of 2 in December 2022 to 93 in June 2023.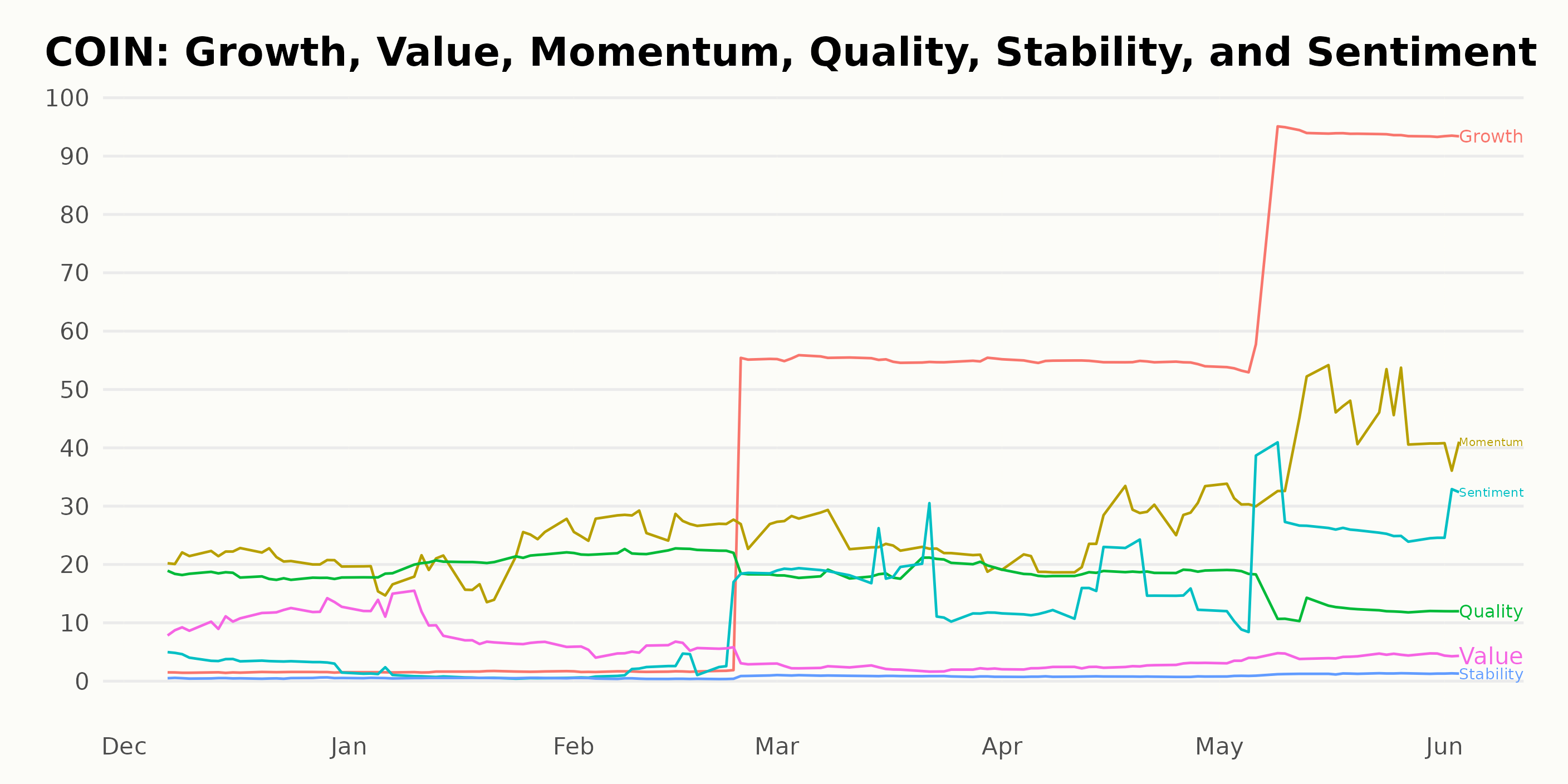 How does Coinbase Global, Inc. (COIN) Stack Up Against its Peers?
Other stocks in the Software - Application sector that may be worth considering are eGain Corporation (EGAN), Commvault Systems, Inc. (CVLT), and TeamViewer SE (TMVWY) -- they have better POWR Ratings.
Is the Bear Market Over?
Investment pro Steve Reitmeister sees signs of the bear market's return. That is why he has constructed a unique portfolio to not just survive that downturn...but even thrive!
Steve Reitmeister's Trading Plan & Top Picks >
---
COIN shares were trading at $57.70 per share on Monday afternoon, down $6.85 (-10.61%). Year-to-date, COIN has gained 63.04%, versus a 12.71% rise in the benchmark S&P 500 index during the same period.
---
About the Author: Anushka Dutta
Anushka is an analyst whose interest in understanding the impact of broader economic changes on financial markets motivated her to pursue a career in investment research.
Is Coinbase Global (COIN) a Tech Stock to Buy Now?
appeared first on
StockNews.com