--News Direct--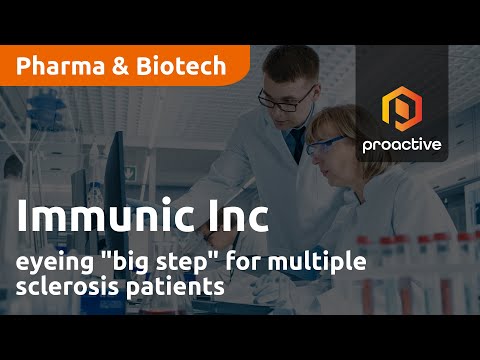 Immunic Inc (NASDAQ:IMUX) president and CEO Dr Daniel Vitt joined Thomas Warner from Proactive ahead of World Brain Day to provide an update on the biotechnology company's novel multiple sclerosis (MS) treatment.
Dr Vitt gives an overview of the treatment that Immunic is currently working on, and emphasisedsthe significance of addressing the high unmet medical need for MS patients worldwide. Immunic's focus is on developing a new therapeutic option, using vidofludimus calcium, to treat both relapsing and progressive forms of MS.
He says that the drug is the first known modulator of the "so-called Nurr1 target", making it a potential neuroprotective treatment. Immunic is conducting a phase two clinical study into its treatment for progressive MS, with biomarker data expected in the second half of the year. Dr Vitt says registration studies for relapsing MS are progressing well, with an interim analysis anticipated next year.
He adds that the MS market holds significant potential due to demand for treatments that strike a good balance between being both effective and tolerable, and says that "if we could confirm in the phase three study that the drug really prevents disability worsening that would be a big step for patients."
Contact Details
Proactive United States
+1 347-449-0879
View source version on newsdirect.com: https://newsdirect.com/news/immunic-inc-eyeing-big-step-for-multiple-sclerosis-patients-696946723