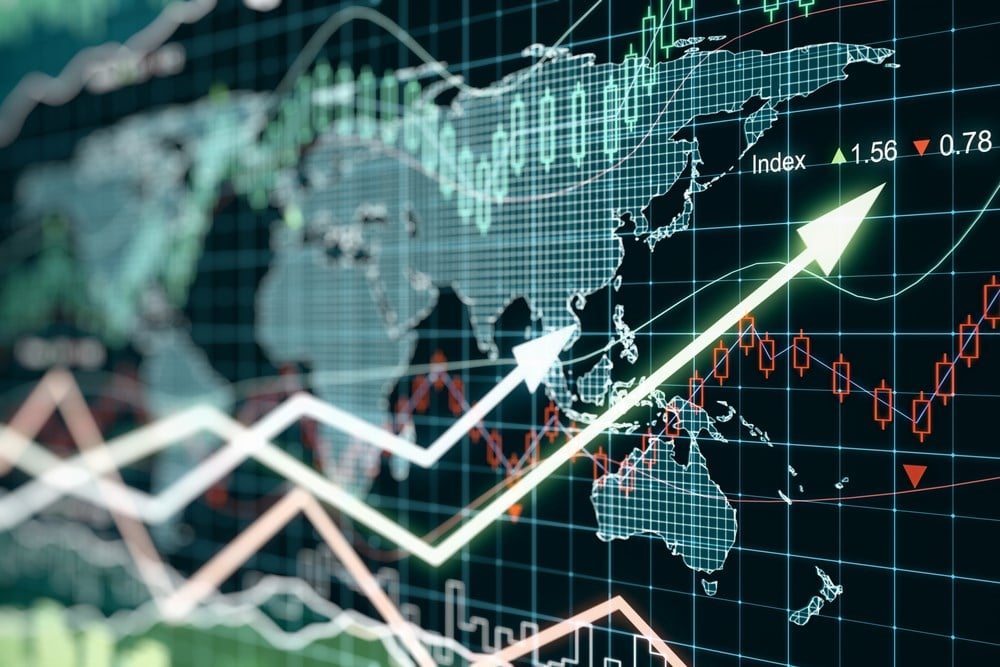 Observability is a strong theme in 2023. It refers to the ability to simultaneously monitor your information technology (IT) infrastructure and apps, like the proverbial "eye in the sky" found in Vegas casinos. The more complicated enterprise IT infrastructures get, the tougher it is to monitor everything to prevent the silo effect.
Effective cybersecurity relies on prudence and efficiency when reacting to threats even before they occur. Observability platforms help enterprises to collect, analyze and visualize data to monitor and react to any situations with their network and IT infrastructure.
Two top observability companies are riding the cutting edge of the industry, but their stocks had opposing directions on their latest earnings releases. One stock may be overpriced, or the other is underpriced as opportunity unfolds for prudent investors ready to react. Here are 2 observability stocks whose directions are opposing sides of the same coin. 
Splunk is a security information and event management (SEIM) observability platform that enables companies to collect and index data from various sources like logs, network traffic, structured data and application data. The indexed data can be searchable and accessed for analysis. It continuously monitors data to alert administrators when certain patterns occur to offset potential issues.
Enterprises gain operation intelligence through analysis and data visualization to identify anomalies and predict potential future events and instances. Its platform is scalable, and its artificial intelligence (AI) and machine learning (ML) tools enable businesses to leverage data to gain actionable insights, and detect and take action against cybersecurity risks. Splunk was named a 2022 Forrestor Wave™ Security Analytics Platform Leader.
Firing on All Cylinders
On Aug. 23, 2023, Splunk released its fiscal second-quarter 2024 results for June 2023. The company reported earnings-per-share (EPS) profits of 71 cents versus 46 cents consensus analyst estimates, a 25-cent beat. Revenues grew 14% year-over-year (YoY) to $910.59 million, beating analyst estimates of $889.29 million.
Customers with annual run rates (ARR) over $1 million grew by 111 YoY to 834. For the fiscal year 2023, total ARR rose 16% YoY to $3.858 billion. Cloud revenue grew 29% YoY to $445 million. Non-GAAP operating expenses fell 3%.
Upside Fiscal Q3 2024 Guidance
Splunk raised its fiscal Q3 2024 revenues to $1.020 to $1.035 billion versus $982.39 billion consensus analyst estimates. Total ARR is expected to be around $3.98 billion. Non-GAAP operating margin is expected between 24.7% and 25.3%.
Raised Fiscal Full-Year 2024 Guidance
Splunk raised its fiscal full-year 2024 revenues to $3.925 to $3.950 billion versus $3.91 billion consensus analyst estimates. Total ARR will come in between $4.150 billion to $4.175 billion, from previous guidance of $4.125 billion to $4.175 billion. Non-GAAP operating margin is expected to be between 21% and 21.5%, up from previous estimates of 18% to 18.5%.
Splunk analyst ratings and price targets are at MarketBeat.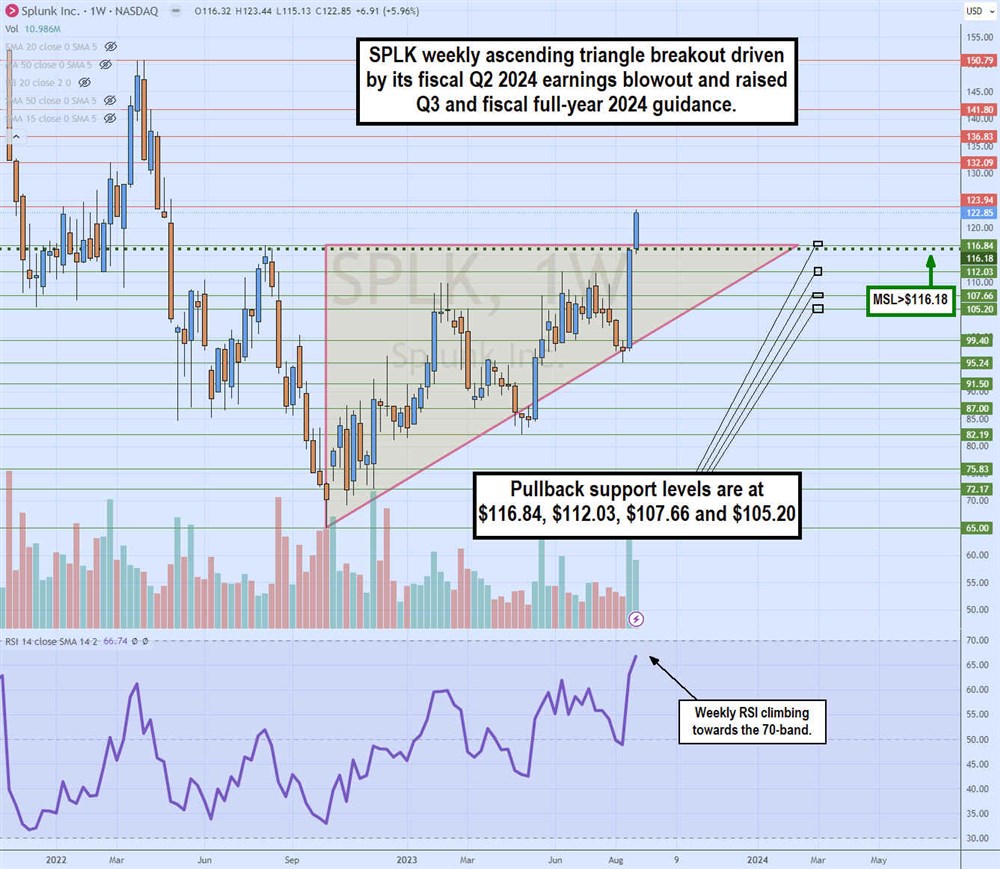 Weekly Ascending Triangle Breakout  
The weekly candlestick chart on SPLK depicts an ascending triangle breakout pattern. The triangle formed its flat-top horizontal resistance trendline at $116.84. SPLK bounced off its $65.00 lows in October 2022. Shares rallied, making higher lows until finally breaking out through the $116.18 weekly market structure low (MSL) trigger and the $116.84 flat-top resistance. The weekly relative strength index (RSI) oscillator rises towards the 70-band. Pullback supports are at $116.84, $112.03, $107.66 and $105.20
Datadog operates a cloud-based observability and cybersecurity platform that provides analytics and monitoring services for companies to gain visibility into their IT infrastructure and applications. The platform monitors servers, databases, services and applications around the clock. It provides a uniform view of an organization's IT infrastructure. Datadog announced a new large language model (LLM) observability solution and more than a dozen new integrations. It also rolled out its Bits AI assistant to learn from real-time observability and help engineers resolve real-time application issues. Amazon.com Inc. (NASDAQ: AMZN) is a large client of Datadog, and since AWS is still growing, investors assumed Datadog would not disappoint with its report.
Strong Earnings
Datadog reported Q2 2023 non-GAAP earnings of 36 cents per share in Q2 2022, beating consensus analyst estimates for 28 cents, an 8-cent beat. GAAP operating losses were $22 million, but non-GAAP income was $106.5 million and 21% operating margins. Revenues climbed 25% YoY, $509.46 million, beating the $501.55 million consensus analyst estimates. It reported that larger customers with over $100,000 in ARR rose to 2,990 from 2,420 in the year-ago period. Datadog ended the quarter with $2.2 billion in cash and cash equivalents.
Mixed Guidance
Datadog issued mixed guidance for Q3 2023, with EPS expected between 33 cents to 35 cents versus 29 cents consensus analyst estimates. Revenues were revised lower to $521 million to $525 million versus $536.20 million analyst estimates. Full-year 2023 EPS was raised to $1.30 to $1.34, beating analyst estimates of $1.18, but full-year 2023 revenues were also lowered to $2.05 billion to $2.06 billion versus $2.10 billion analyst estimates. Shares fell 20% after its Q2 2023 earnings report, largely attributed to its mixed guidance.
Silver Lining?
Datadog CEO Olivier Pomel stated that some of its larger customers are starting to scrutinize their costs, putting pressure on usage rates. This impacted the company since it charges by usage. However, Datadog is closing new customers at a record pace, and the company had the strongest second quarter in its history. Pomel said they are starting to see stabilization from customers who began optimizing their cloud and observability usage a year ago. He also expects more revenues to trigger from its new AI offerings and platform integrations.
Datadog analyst ratings and price targets are at MarketBeat.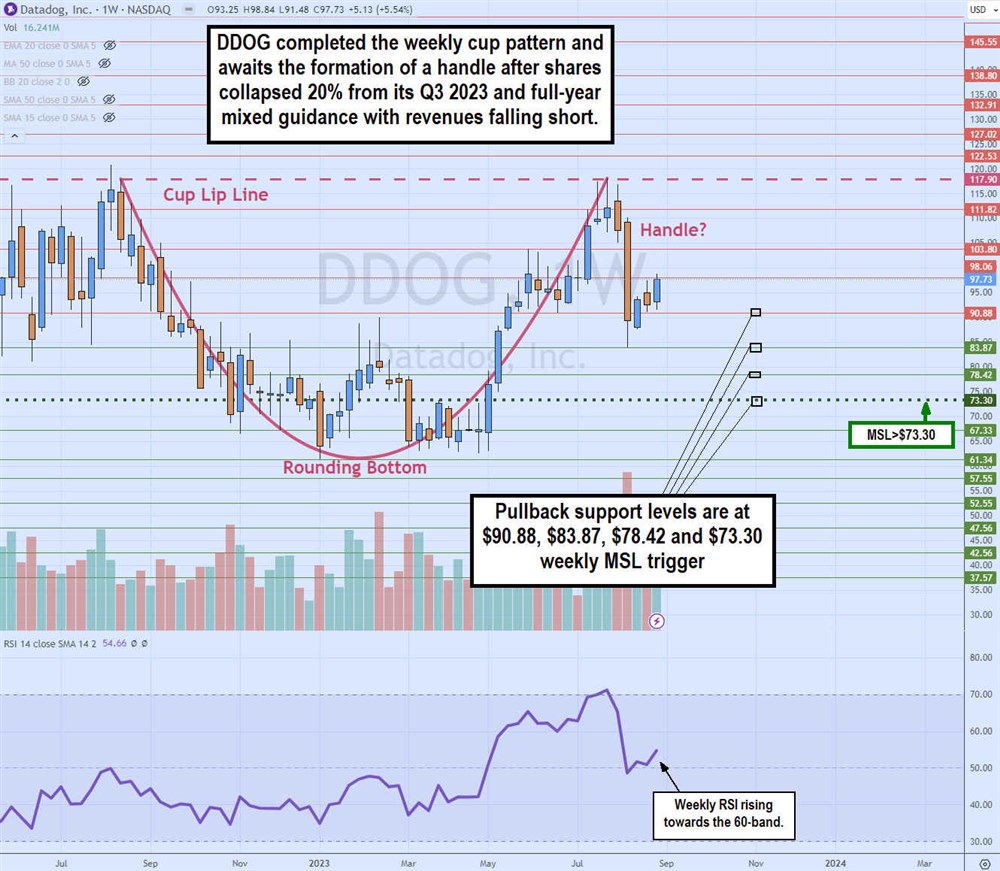 Weekly Cup Pattern  
The weekly candlestick chart on DDOG illustrates the cup pattern completion awaiting the handle formation. The cup lip line formed after peaking at $117.90 in August 2022. Shares fell to a low of $61.34 by January 2023, forming a rounding bottom and triggering a weekly market structure low (MSL) breakout through the $73.30 trigger. DDOG continued to grind higher until it retested the cup lip line at $117.90 in July 2023 before collapsing on its Q2 2023 earnings report and mixed guidance. Shares fell 20% to a low of $83.87 and have been attempting to grind back on the heels of SPLK earnings positive sentiment. The weekly RSI is rising towards the 60-band. Pullback support levels are $90.88, $83.87, $78.42 and $73.30 MSL trigger.