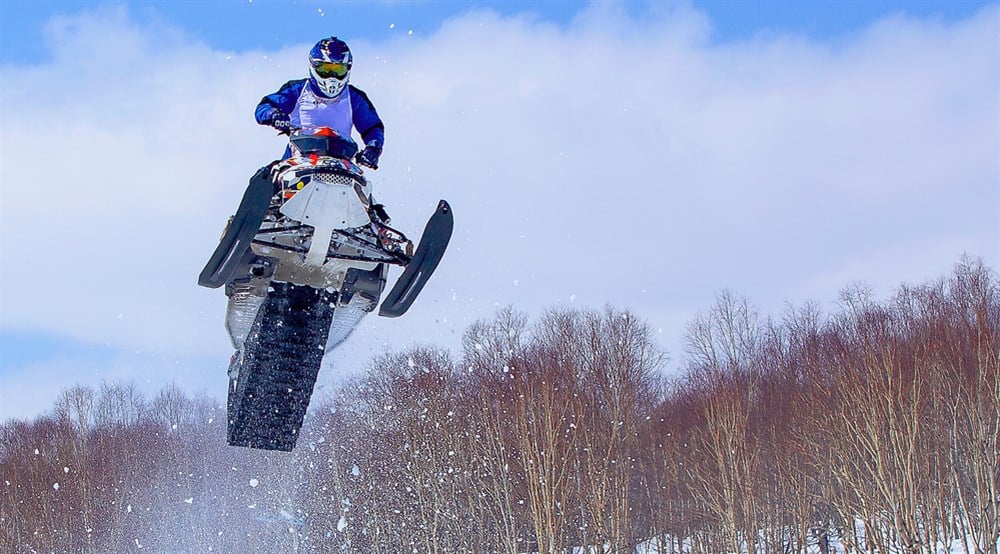 Outdoor recreation got a big boost during the pandemic as social distancing and lockdowns caused people to seek out other forms of leisure and entertainment that didn't involve human interactions.
Recreational vehicle (RV) sales skyrocketed, as evidenced by the jump in business for RV makers like Winnebago Industries Inc. (NASDAQ: WGO) and THOR Industries Inc. (NYSE: THO). The industry is experiencing negative normalization as people are back in the office and at work, leaving less time for leisure.
Here are two power sports stocks worth watching to diversify your portfolio.
In a period of negative normalization in the outdoor recreation market, consumers who sell their power sports vehicles can do so on America's top power sports buyer. RumbleOn is an e-commerce platform, omnichannel retailer and one of the nation's largest power sports buyers.
It buys, trades and sells outdoor power sports vehicles, from Sea-Doos and personal watercraft to ATVs and motorcycles. It owns and operates over 50 RideNow retail stores across the country. Sellers can get instant cash offers on their Powersport vehicles by entering their VIN and vehicle information. Paperwork, free pickup and cash transfer steps can be completed in a few days.
Negative Normalization Still in Effect
Shares of RMBL peaked at $64.13 at the height of the pandemic reopening period. Since then, the business and the outdoor recreational industry have been in negative normalization. RumbleON reported its Q2 2023 earnings report with an earnings-per-share (EPS) loss of 83 cents, missing estimates by 94 cents.
Revenues fell 30% year-over-year (YoY) to $382.73 million, missing analyst estimates by $25.4 million. However, revenues rose 14.5% sequentially, driven by power sports vehicle sales and normal seasonal trends.
RumbleON CEO Mark Tkach commented, "In a very short period of time, we've taken meaningful proactive measures to better position the business for 2023 and beyond. We have restructured our financing agreement and taken decisive actions to improve our balance sheet, cost structure and corporate governance, giving us additional flexibility to execute our strategies."
RumbleON analyst ratings and price targets are at MarketBeat.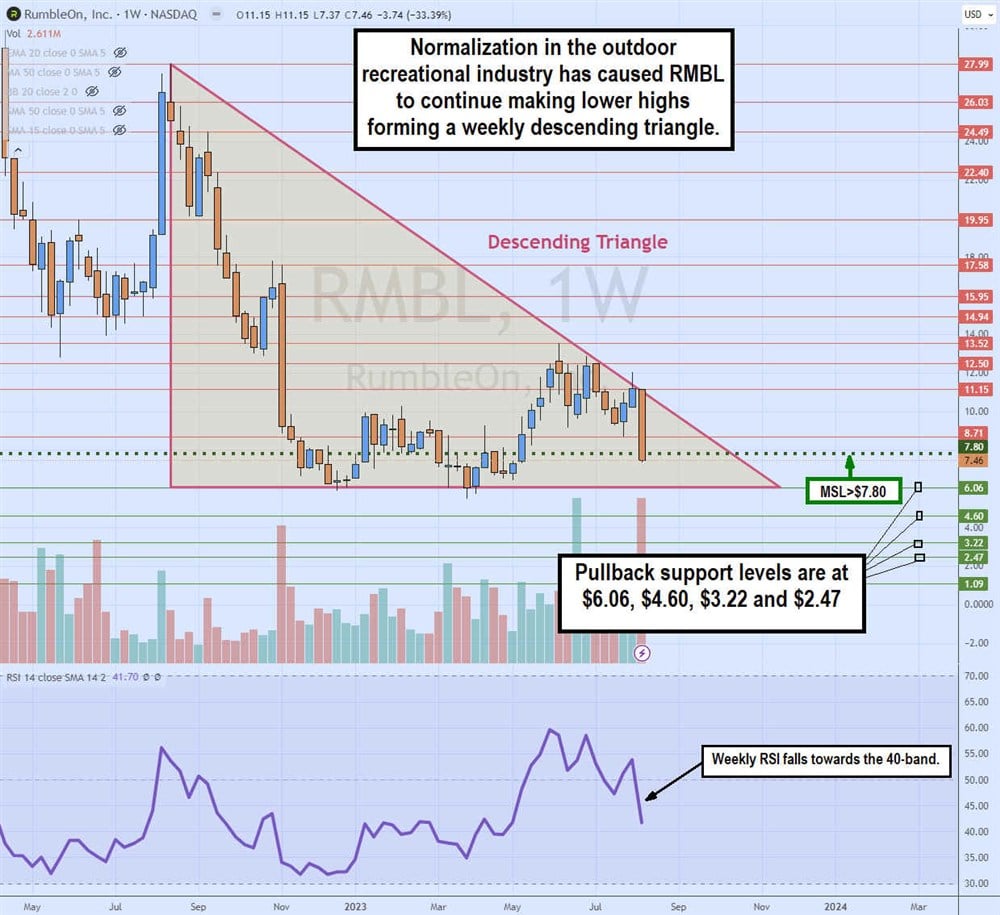 Weekly Descending Triangle Pattern
The weekly candlestick chart on RMBL continues to be bearish with a descending triangle. The lower highs formed a descending trendline against the flat-bottom horizontal trendline at $6.06. The three attempts to break out of the triangle were all rejected, but the most recent attempt resulted in a collapse through the weekly market low (MSL) trigger structure at $7.46.
The weekly relative strength index (RSI) oscillation has turned back down, falling towards the 40-band. Pullback support levels are at $6.06, $4.60, $3.22 and $2.47.
The name might not sound familiar, but their products are for anyone who has ridden a Sea-Doo personal watercraft vehicle. Bombardier Recreational Products is a Canadian company that designs, manufactures and sells a range of power sport vehicles and propulsion systems.
They make the Sea-Doo line of jet skis. They also make Ski-Doo and Lynx snowmobiles. They make Can-Am for both on-road and off-road all-terrain vehicles (ATVs). BRP is also the manufacturer of Evinrude and Johnson outboard motors for boats. Its products are sold in over 100 countries and obviously on RumbleON.
Positive Normalization
BRP reported its fiscal Q1 2024 earnings on Jun. 1, 2023. Revenues rose 34% YoY to $2.43 billion. Normalized EBITDA increased 39% to $377 million. North American Powersports retail sales grew 3% as it gained market share in the side-by-side vehicle (SSV) and personal watercraft (PWC) segment. Normalized earnings rose 43% to $2.38 per share.
The company reaffirmed fiscal full-year-end revenue guidance of 9% to 12% growth YoY or between $12.25 to $12.75 per share.   
BRP Inc. CEO Jose Boisjoli commented, "We recently celebrated our 10th anniversary as a publicly traded company, and we are proud of our achievements over that period. Our revenues tripled, Normalized EPS  diluted grew eightfold, and our Powersports market share almost doubled." The short-term focus is on optimizing efficiencies.
BRP Inc. analyst ratings and price targets are at MarketBeat.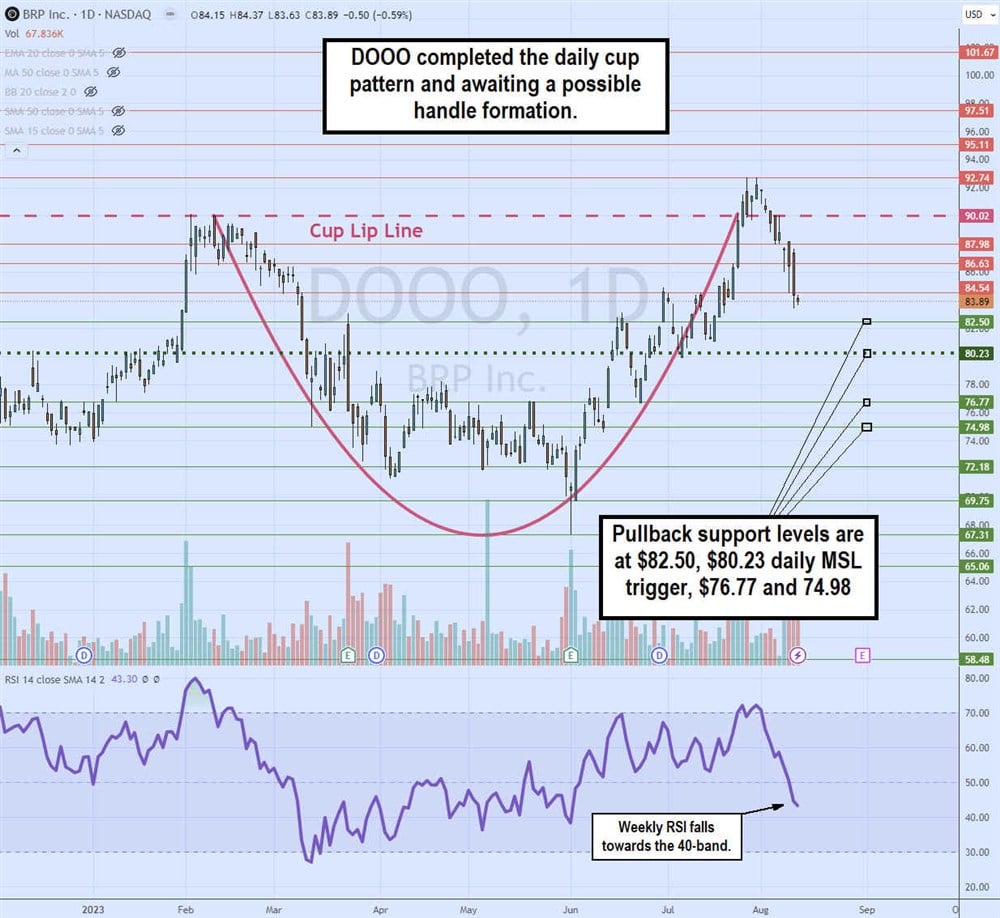 Daily Cup Formation 
The daily candlestick chart on DOOO illustrates the cup formation and awaits a potential handle or a breakdown. The cup lip line formed at $90.02 on February 9, 2023, as shares fell to a low of $67.31 on June 1, 2023. Shares gradually began a rounding bottom and then formed a breakout through the market structure low (MSL) trigger at $80.23 as it overshot the cup lipline to peak at $92.74 on July 31, 2023.
Shares continued to cascade lower through the $84.54. The daily RSI fell under the overbought 70-band and continues to fall towards the 40-band. Pullback support levels are $82.50, $80.23 daily MSL trigger, $76.77 and $74.98.