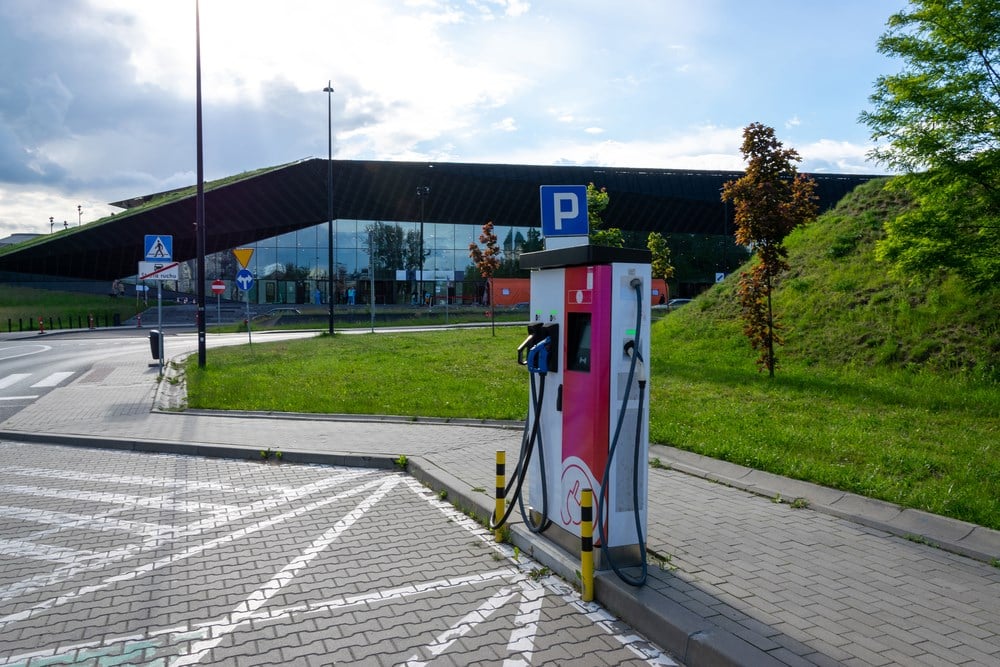 Beam Global Inc. (NASDAQ: BEEM) is emerging as a standout in the electric vehicle (EV) infrastructure space. As the EV movement continues to spread as more EVs get on the road, EV charging stations continue to pop up everywhere from companies like  ChargePoint Holdings Inc. (NASDAQ: CHPT), Blink Charging Co. (NASDAQ: BLNK), EVgo Inc. (NYSE: EVGO) and the Telsa Inc. (NASDAQ: TSLA) supercharging network. Beam's cleantech EV ARC charging systems require no electrical connection to the grid, no construction buildout and store their electricity. It uses sustainable energy from solar panels to enable fast EV charging in as little as 30 minutes.
Each 4.3kW solar array EV ARC can charge six EVs simultaneously. The product works best in geographies with plenty of sunshine, like California, North Africa and the Middle East. The company also makes custom electric batteries to fit into small, unique spaces. Shares have fallen from a high of $76 in December 2020 to a low of $8.51 in April 2023.
Sales Beaming Higher
On May 15, 2023, Beam released its Q1 2023 results for the period ending March 31, 2023. The company reported an earnings-per-share (EPS) loss of ($0.38) versus consensus analyst estimates for a loss of ($0.31), beating estimates by $0.07. Revenues rose 245% YoY to a record $13 million, beating analyst estimates by $4.68 million. Beam raised EV ARCA prices by 8.25% and had record EV ARC unit deployments up 233%. The company had record Q1 new purchase orders of $5.45 million, comprised o 51% government and 49% commercial. Beam ended Q1 with a backlog of $52 million. The company has $5 million in cash and an untapped $100 million credit facility.
CEO Insights
Beam Global CEO Desmond Wheatley commented, " As we've increased volume, which has been very dramatic, the overhead burden is shared amongst a greater number of units, and therefore, the burden on gross margin is less," he explained. "Beyond that, we are becoming more efficient, and our engineering teams are improving upon our product, making it higher quality but less expensive."
This is the eighth consecutive quarter of growth. There is no issue regarding demand; focus is being placed on deliveries. The company delivered 150 EV ARCs, up from 103 in Q4 2022. The company will continue its accelerating trend of production. The improvement in volumes will result in improvements in gross profits. The company generated gross profits in Q1 2023 versus a (8.1%) gross loss in the previous quarter.
EV ARC Production Cost Savings
Beam engineers discovered $10,000 to $12,000 savings producing a better EV ARCA system. This will result in a 16% to 20% margin improvement. The improvements will see impacts starting from Q2 2023. The robust government and commercial demand have enabled the company to bump prices by 8.25% on the base model. EV ARC is a patented product with no direct competitor. Material costs are expected to decline through the remainder of 2023.
Needham Reiterate Hold Rating
On Mar 30, 2023, Needham analyst Chris Pierce reiterated the Hold rating on Beam stock. He felt Beam needs to show a path to EV ARC margin improvement in 2023 after providing that it can sell EV ARCs in 2022. Beam Global analyst ratings and price targets can be found on MarketBeat.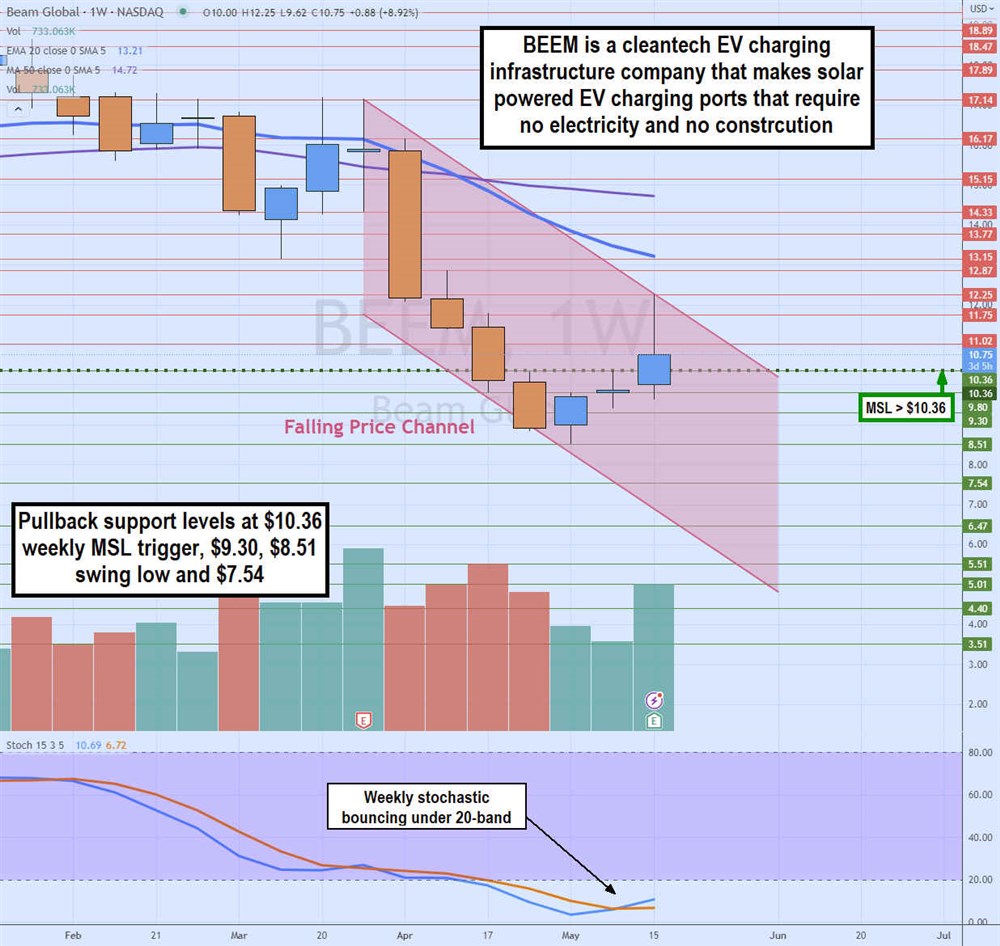 Weekly Falling Price Channel
The weekly candlestick chart on BEEM illustrates the falling price channel that commenced again from $17.17 in March 2023. Shares continued to make lower highs on bounces and lower lows on sell-offs. BEEM formed a swing low at $8.51 in May 2023. The weekly market structure low (MSL) breakout triggered through $10.36 on Q1 2023 earnings. ]
The weekly 20-period exponential moving average (EMA) resistance falls at $13.21, followed by the 50-period MA at $14.72. The weekly stochastic has crossed up but is still oversold at the 10-band. Pullback support levels are $10.36 weekly MSL trigger, $9.30, $8.51 swing low and $7.54.