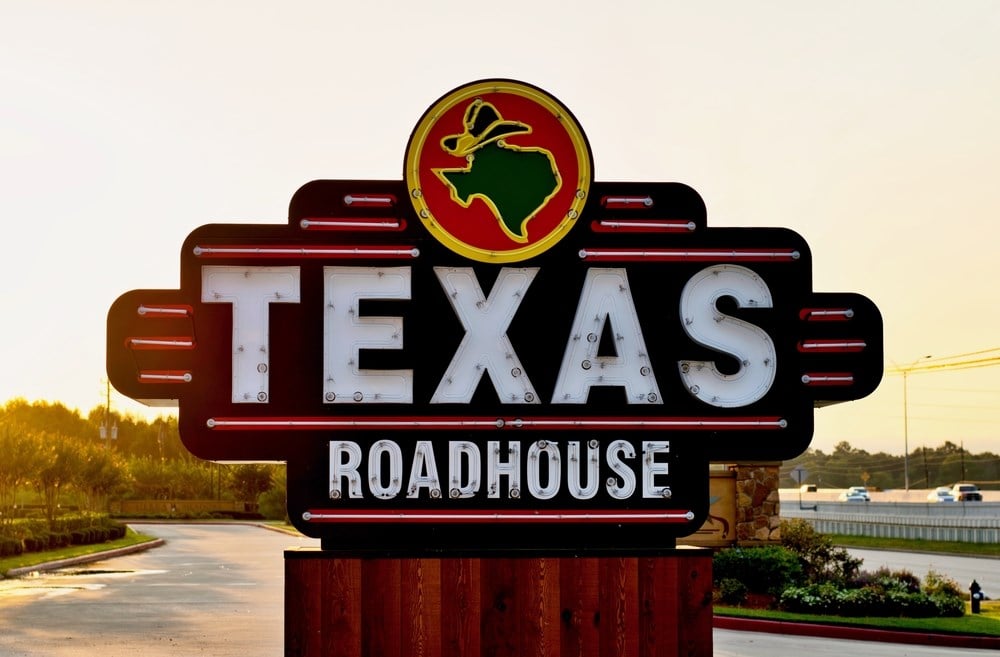 Restaurant stocks across the spectrum defy inflation and darkening economic clouds to produce results and deliver value for shareholders, offering value and high yield. Among them are Texas Roadhouse Inc. (NYSE: TXRH), Darden Restaurants Inc. (NYSE: DRI), Ruth's Hospitality Group Inc. (NASDAQ: RUTH) and Bloomin' Brands Inc. (NASDAQ: BLMN), which have all reported solid quarters and given positive guidance for the year. Underpinning these dining stocks results is a return to normalized traffic with revenue and earnings well above pre-pandemic levels and growing. 
Texas Roadhouse: The Group Leader 
Texas Roadhouse is the group leader for several reasons, including its size, scale and valuation. Trading at 24x its earnings, it is not a value compared to peers or the broad market, but it is supported by the same tailwinds that support others in the industry. The fourth-quarter results were disappointing, but the 2023 outlook includes sequential improvements in the first portion of the first quarter, positive industry trends and the expectation for record store openings for the year. The analysts' activity has been mixed since the report, but the price target assumes an upside, and the most recent commentary is bullish. BTIG upped its target to $120 from $110, which has the consensus firming compared to last quarter and last month. TXRH and its 2% dividend yield will likely increase to a new all-time high assuming this trend continues. 
Darden Restaurants Inc.: Better Value, Better Yield and Diversified
Darden Restaurants owns Longhorn Steakhouse and Olive Garden, among other brands, so it has more diversification than Texas Roadhouse. It also trades at a more favorable valuation, about 19x, while paying a higher 3.15% yield. Its recently reported quarter includes top- and bottom-line strength, compounded by increased guidance. Sales at all locations are growing, but Olive Garden and Fine Dining establishments are outperforming. More importantly, the company's efforts to navigate the pandemic and labor market issues have its margins widening. The analysts have it pegged at a more robust "moderate buy" rating, although the price target offers less upside. The difference is that the price target is trending more strongly upward and is on track for new all-time highs.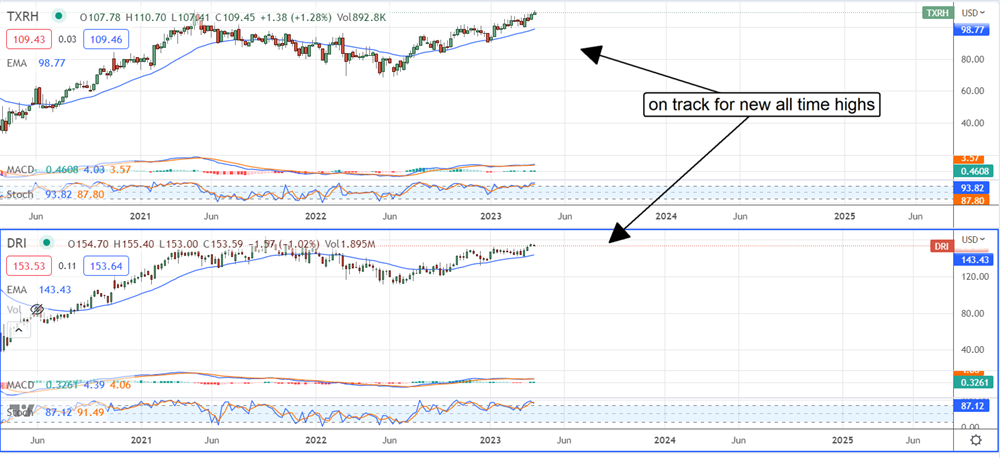 Ruth's Hospitality Group: A Tasty Small-Cap Dividend Stock 
Ruth's Hospitality Group is the parent of Ruth's Chris Steakhouse and is an attractive small-cap player in the restaurant industry. The company also beat on the top and bottom lines and, while not giving specific guidance, left the market feeling satisfied with the report. This stock trades at only 12x its earnings while paying an even more robust 3.55% and its analysts see a double-digit upside. The stock doesn't get much coverage, but the most recent is a reiterated "overweight" rating with a 20% upside. 
Bloomin' Brands is the Undervalued Play 
Bloomin' Brands is the parent of Outback Steakhouse and Carrabba's, so is most closely related to Darden Restaurants, yet it trades at half the valuation while paying a better 3.7% yield. It also beat on the top and bottom lines in the fourth quarter and raised its full-year guidance, sparking a round of positive analyst commentary. The analysts have it pegged at a "moderate buy" with a price target in double-digit but not new all-time high territory. Given the low 22% payout ratio compared to Darden's higher 66% ratio, there is a reason for the value difference. The takeaway is that Bloomin' Brands is on track to increase its payout on a sustained annual basis and could easily drive its share price up to similar values and maintain a similar 3% yield. That's a double-win for income investors.