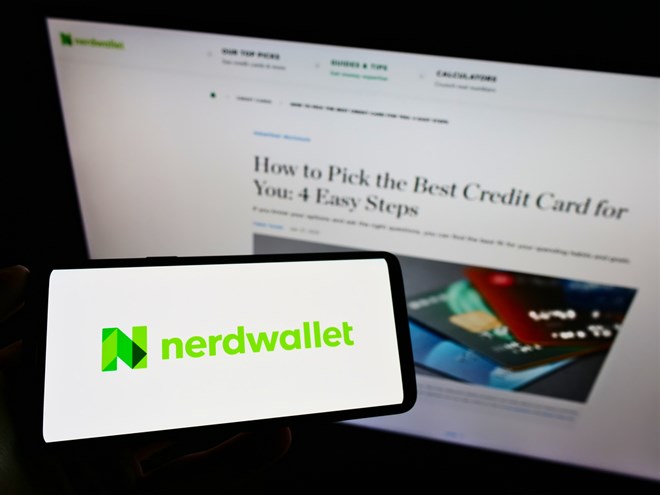 Financial services platform NerdWallet Inc. (NASDAQ: NRDS) has been notching some of its best price gains since going public at the inauspicious time of November 2021. Shares rose 21.77% in January and are up almost unbelievable 71.30% so far in February. 
The company offers loans, other banking services, and a range of financial planning and management products, such as mortgages and credit card products, through its integrated platform. 
Beating Wall Street Views
The catalyst for its recent big price move was its February 14 fourth-quarter earnings report. The company earned $0.12 per share on revenue of $142 million, marking a year-over-year improvement from last year's loss of $0.13 per share and a 43% revenue gain. 
That topped Wall Street's estimates of $.007 earnings per share on revenue of $139.7 million.  
NerdWallet aims to be a one-stop shop for consumer financial needs.
In the fourth-quarter letter to shareholders, CEO Tim Chen wrote, "Our brand's appeal across multiple verticals has an important follow-on benefit: It becomes easy for us to land and expand into more verticals, and many of those verticals are inversely correlated to each other, allowing us to grow in challenging climates"
Chen offered a specific example of rising interest rates creating a tailwind for bank deposits. Across the board, the banking industry has benefited from higher interest rates, as typically occurs during rising-rate environments. 
Chen also noted the banking vertical offsetting headwinds in mortgage refinancing. 
Pivot To Profitability
The company is doing a hard pivot to profitability after losses in 2021 and 2022. Wall Street expects earnings of $0.06 a share this year, and $0.36 a share in 2024, which would be a gain of 500%. 
It's not uncommon to see newly public companies experience losses as the focus is on fast growth, rather than profitability. 
NerdWallet went public at $18 on November 4, 2021, exactly the week when the broader market began rolling over after big rallies in the previous three years. 
As you can see on NerdWallet's chart, the stock hasn't come close to its post-IPO high of $34.44, but given the marketwide downturn in 2022, it's fair to view the stock's current uptrend with fresh eyes. 
There's reason to believe the stock has room to run.
According to MarketBeat analyst data, Wall Street has a "moderate buy" rating on the stock. The consensus price target is $17, representing a downside of 15.25%. However, there are a couple of points to remember about that consensus target.
After a two-month price run-up of more than 90%, it's entirely realistic to expect a pullback as the stock digests gains, and investors who bought at a lower price nab some profits.
One outlying price target is affecting the consensus estimate. Morgan Stanley boosted its target on NerdWallet after the most recent earnings report, but only to $14, a price that was surpassed immediately. Other analysts continue to maintain targets with room for upside.
In its earnings report, the company offered the following guidance for the first quarter of 2023: 
Revenue is expected from $165 million to $170 million, a 30% year-over-year growth rate at the midpoint.
Adjusted earnings before interest, taxes, depreciation and amortization (EBITDA) is expected in the range of $17 million to $19 million.
In addition to bullish guidance, the stock has youth going for it. Generally, stocks post some of their biggest price gains within the first few years of going public. As you can see on NerdWallet's chart, it's definitely not too late to capture gains as it and the broader market attempt to rally back from last year's declines. 
With a market capitalization of $1.49 billion, NerdWallet is still a small company. Small companies like this are often more volatile than their larger peers in the S&P 500, and that's the case here. NerdWallet has a beta of 1.18, meaning it's 18% more volatile than the broad market. That's not necessarily a problem as long as investors know what to expect if they purchase this, or any stock.