BURLINGTON, Mass., Sept. 12, 2023 (GLOBE NEWSWIRE) -- This week at the IBC2023 show, audio production professionals working in network television, streaming media and film will be first to see Avid® (Nasdaq: AVID) previews of breakthrough technologies coming soon to Pro Tools® workflows. Developed for the world's most demanding productions, these demonstrations will show how projects can be delivered faster with more thrilling sonic experiences for all audiences.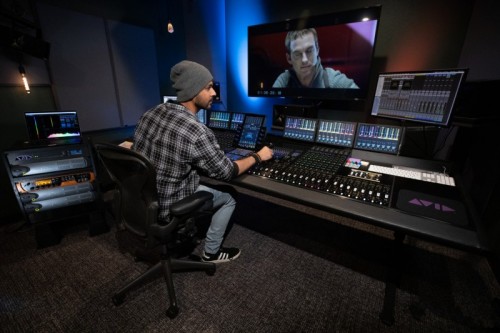 Stay in Pro Tools when mixing Dolby Atmos content
During IBC2023, Avid will further showcase its ongoing partnership with Dolby to support development that keeps pace with the demand for immersive sound experiences. A preview demonstration of Pro Tools with an integrated Dolby Atmos® Renderer, a leading workflow for immersive audio, will show how Pro Tools will eliminate complex configurations while mixing immersive sound. Users will be able to easily configure a mix for Dolby Atmos on both macOS- and Windows-based Pro Tools systems, and with the Dolby Atmos Renderer integration, Pro Tools sessions will retain all mix data, ensuring users and facilities have compatibility across projects and seamless collaboration.
Achieve the cleanest audio possible without leaving Pro Tools
To help audio engineers more easily and consistently deliver clean and clear production audio, Avid will preview new development efforts to utilize Celemony ARA 2 technology to integrate iZotope's RX Spectral Editor directly into Pro Tools. This will enable users to have a more fluid workflow to repair and clean-up audio, without the need to hop in-and-out of applications. The professional standard for dialogue editing and other critical processes, RX Spectral Editor visually displays unwanted audio imperfections and interference for easy restoration and clean-up.
"Users go deep into their creative zone when they step into Pro Tools every day. Our job is to preserve that domain for them, making sure they get to remain there and be productive as long as possible without distraction," said Francois Quereuil, Vice President, Product Management for Audio and Music Solutions, Avid. "What we're demonstrating with our IBC2023 previews is that Pro Tools is evolving and innovating at a much faster clip to become the gravitational center for everything audio engineers need to accomplish with their workflows, whether enabled by Avid tools or third-party offerings."
Deeper Pro Tools and Media Composer interoperability
Demonstrations will also show tighter integration of the industry's top editing tools, Avid Media Composer® and Pro Tools. Steady introductions of new technologies are helping customers to surpass their expectations for collaboration among audio and video editing teams and the outstanding content they can deliver together. To be shown at Avid's booth and available to users now, visitors will see how Pro Tools Track Markers improve the workflow between Avid's video and audio editing software tools, so teams can have tighter collaboration notes. Track Markers added to a Media Composer Sequence with detailed, color-coded comments will now appear at Pro Tools track positions, so sound engineers can navigate quickly to do their work. Having compatible Track Markers between video and audio production teams improves and accelerates collaboration workflows.
Powerful hardware throughout Pro Tools workflows
Integrated solutions demos at IBC2023 will feature the new Pro Tools | MTRX II™ audio interface, Pro Tools | Sync X™ master clock, Pro Tools | HDX™ DSP system, Avid S1™ console and Avid Dock™.
MTRX II further pushes the limits of high-end audio environments by expanding on its predecessor's reputation, now including 256 channels of Dante™ and SPQ filters for room correction across a full 64-channel Theatrical Dolby Atmos monitor environment. More than an audio interface, MTRX II and MTRX Studio now support Thunderbolt™ 3 connectivity from the optional Thunderbolt 3 card, which will be shipping soon. The Thunderbolt option card supports up to 256 channels on MTRX II or 64 channels with MTRX Studio and allows users to interface directly to host computers running native Pro Tools, other DAWs or audio processors, while simultaneously connected to Pro Tools HDX over Digilink.
Integration of MTRX II with Thunderbolt, in conjunction with EUCON™-enabled S1 and Dock control surfaces, provides deep control of Pro Tools and other Audio Apps, while also providing full Theatrical Atmos monitoring and massive Dante connectivity to other devices.
Pro Tools: The global standard for audio post
Pro Tools is the universal language of audio post production in television and film, from recording voiceovers, ADR, and Foley, to designing, editing, dubbing, and mixing. Pro Tools offers highly efficient, high-end capabilities in more accessible solutions to meet the needs of any size facility or team. It makes collaboration easy across the entire workflow with tightly integrated software, hardware, control surfaces, and plugin compatibility, enabling sound creators and mixers to achieve their creative vision quickly and deliver the best possible sonic experiences. Learn more at www.avid.com/pro-tools/audio-post.
To plan your visit with the Avid team at IBC2023 and book an appointment to explore your own vision for the future of open media production, go to Avid at IBC2023 today.
Avid Powers Greater Creators    
People who create media for a living become greater creators with Avid's award-winning technology solutions to make, manage and monetize today's most celebrated video and audio content—from iconic movies and binge-worthy TV series, to network news and sports, to recorded music and the live stage. What began more than 30 years ago with our invention of nonlinear digital video editing has led to individual artists, creative teams and organizations everywhere subscribing to our powerful tools and collaborating securely in the cloud. We continue to re-imagine the many ways editors, musicians, producers, journalists, and other content creators will bring their stories to life. Discover the possibilities at avid.com and join the conversation on social media with the multitude of brilliant creative people who choose Avid for a lifetime of success.    
© 2023 Avid Technology, Inc. All rights reserved. Avid, the Avid logo, Avid Dock, Avid S1, EUCON, Media Composer, Pro Tools and Pro Tools | MTRX II, Pro Tools | Sync X, and Pro Tools | HDX are trademarks or registered trademarks of Avid Technology, Inc., or its subsidiaries in the United States and/or other countries. ARA and Celemony are registered trademarks of Celemony Software GmbH. Dolby and Dolby Atmos are registered trademarks of Dolby Laboratories. Dante is a trademark of Audinate Pty Ltd. Thunderbolt is a trademark of Intel Corporation or its subsidiaries. Other trademarks are property of their respective owners. Product features, specifications, system requirements and availability are subject to change without notice.   
PR Contacts   
Neil Beston – EMEA/ANZ   
neil.beston@avid.com   
+44 (0) 7770 644 136
Dave Smith – Americas   
david.smith@avid.com   
+1.978.502.9607

A photo accompanying this announcement is available at:
https://www.globenewswire.com/NewsRoom/AttachmentNg/1136df4d-65a2-478a-a5dc-25a477ad035d