DENVER, Aug. 31, 2023 (GLOBE NEWSWIRE) -- CryoMass Technologies Inc. (the "Company" or "CryoMass") (OTCQB: CRYM) a leader in innovative cryogenic botanical refinement systems, has signed a license agreement with a California cannabinoid ingredient producer, RubberRock Inc. ("RubberRock") co-owned by famed extractor Brad Robertson, co-founder of Guild Extracts.

Led by Chief Science Officer Brad Robertson and co-founder Kevin Ahaesy, RubberRock aims to become a leader in the production and wholesale of cannabis ingredients.
After demonstrating the trichome separation capabilities of the CryoSift Separator™, CryoMass most important objective was finding the most efficient and scalable way to utilize CryoSift™ for large scale cannabinoid production. This meant finding partners with deep extraction expertise open to new methods beyond existing extraction processes. Current extraction techniques utilize full biomass, not refined and concentrated input material like CryoSift™.
CryoMass found an ideal partner in pioneer extractor Brad Robertson. In 2015, Robertson and Guild Extracts were the first to isolate and commercialize high-purity THCa crystalline, the natural form of THC found in raw cannabis plants. Robertson holds two patents for efficiently extracting and isolating cannabinoids and terpenes using proprietary methods. His ability to produce pure cannabinoids faster, with less solvent, and in higher yields than other processors put him in a class of his own.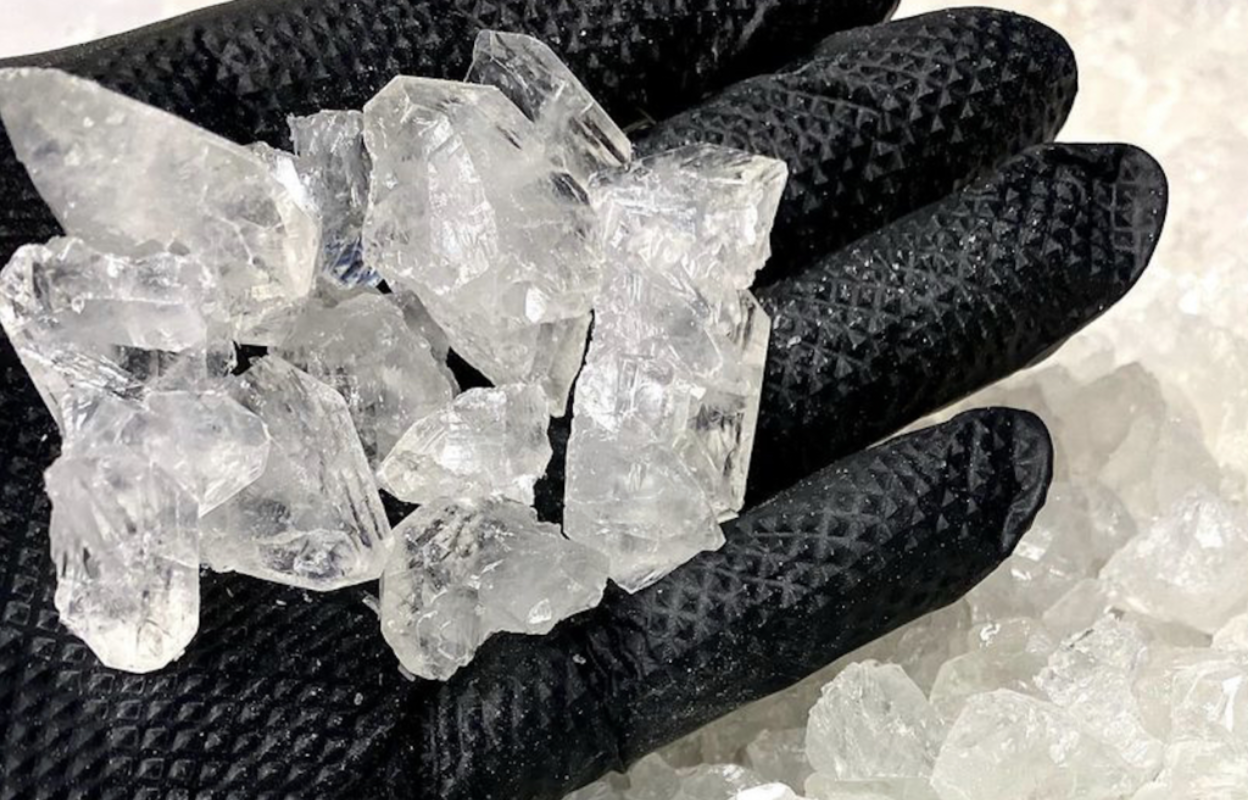 THCa crystalline

Robertson's innovative approach mirrors the way CryoMass developed its trichome separation process due to the creative thinking of Matt Armstrong, CryoMass Senior Director of Innovation, and willingness to explore new methods.
CryoMass identified Brad and his team as the right partner since RubberRock already produces cannabinoid ingredients faster, more efficiently, and cheaper than most processors. Combining CryoMass's patented refinement with Brad's proprietary extraction will enable unprecedented scale and cost efficiency in cannabinoid production.
Under the agreement terms, CryoMass receives a territory licensing fee and ongoing royalties. The royalties include 25% of gross revenue from any cannabinoid extracts, ingredients or formulations utilizing CryoSift™. Minimum quarterly royalties, starting at $100,000 and reaching $750,000 by Q4 2024, guarantee CryoMass at least $3 million in annual royalties. This recurring revenue stream positions CryoMass to potentially reach profitability from a single system.
CryoMass CEO and Director Christian Noël stated, "Partnering with an innovative processor like RubberRock is key to scaling our disruptive technology. This joint solution unlocks new potential for producing high-value cannabinoid ingredients at scale. The structure of this agreement will increase our revenue potential, which is great for all stakeholders".
Robertson stated the collaboration "will allow RubberRock to become a top cannabinoid supplier in California. That wouldn't be possible without CryoMass's game-changing refinement process."
Commercialization Update
With strong demand and solid pipeline, CryoMass continues selectively vetting partners to deploy its technology across key markets, while upholding standards for controlled growth. The company has fielded over 200 inquiries from 20+ countries and 10+ states, engaging with 70+ prospects and is actively involved in conversations with 25+ of them. Near-term plans target two additional unit deployments in strategic regions.
"We want to thank our 4000+ loyal shareholders for their continued support as we work to deliver on the success we've all patiently waited for," said Noël.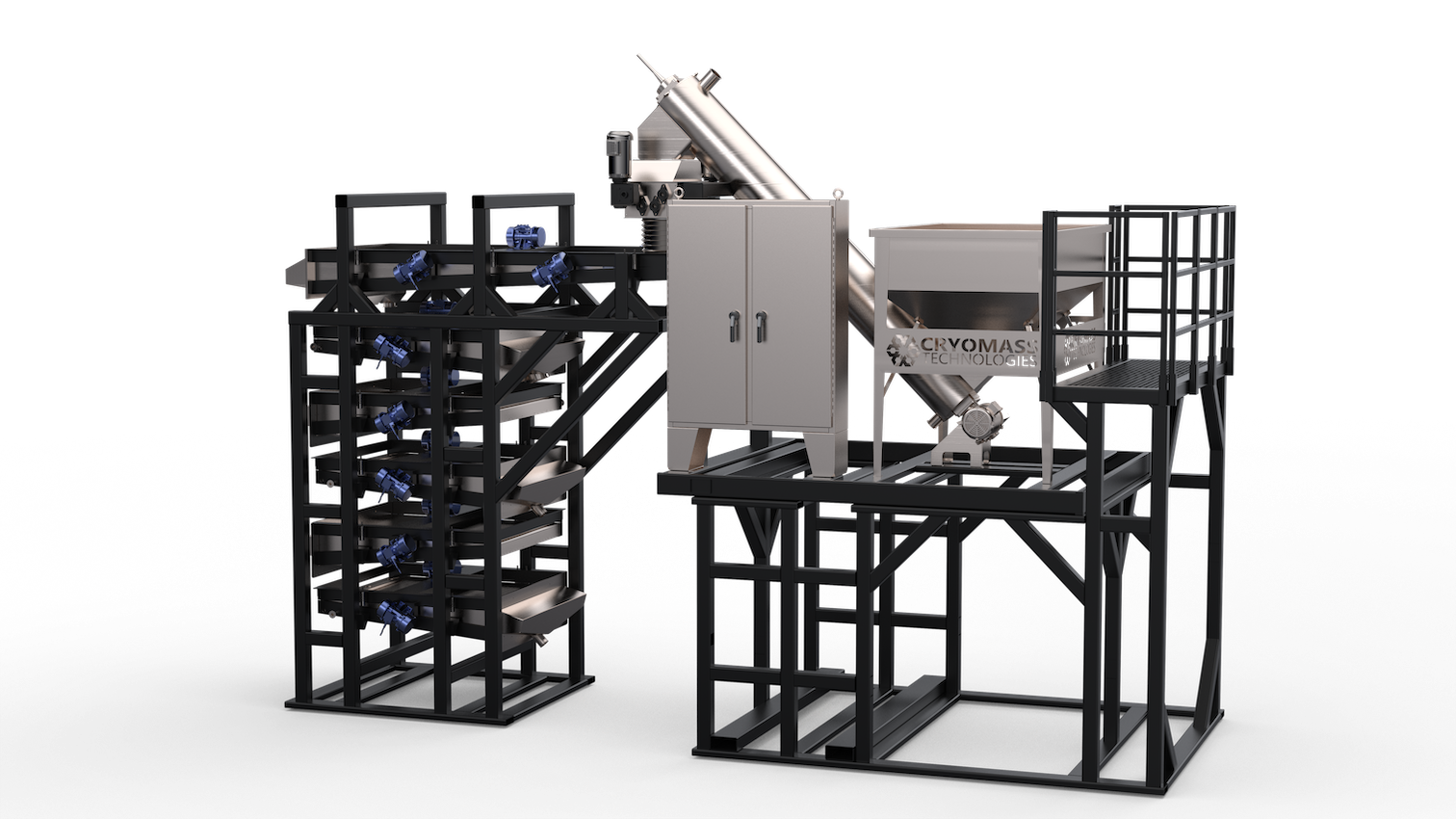 CryoSift Separator Beta Unit™
The common stock of CryoMass Technologies Inc. trades on the OTC QB market under the symbol CRYM.  For further information, please contact the Company by email at investors@cryomass.com or by telephone at 303-222-8092.
About CryoMass
CryoMass Technologies Inc. develops and licenses cutting-edge equipment and processes to refine harvested cannabis, hemp, and other premium crops. The company's patented technology harnesses liquid nitrogen to reduce biomass and then efficiently isolate, collect and preserve delicate resin glands (trichomes) containing prized compounds like cannabinoids and terpenes.
Building on this technology, CryoMass has engineered its premier Trichome Separation unit (CryoSift Separator™), optimized via patented cryogenic processes to rapidly capture intact, high-value cannabis and hemp trichomes (CryoSift™). Much like sugar and flour refinements, the resulting CryoSift™ concentrate is a superior product compared to unprocessed biomass. For cultivators, reducing biomass into CryoSift™ slashes volume up to 80%, dramatically lowering storage, handling, and transportation costs. Properly stored, CryoSift™ prevents potency and terpene degradation, preserving value.   For processors, the minimized input volume also enables considerable cost savings and logistics advantages. Extracting from CryoSift™ using solvents and manufacturing solventless products unlocks industrial scale yields unattainable otherwise.   CryoMass anticipates its efficiencies will catalyze industry-wide shifts in cannabis and hemp post-harvest methods. Additionally, the technology shows promise for diverse trichome-rich plants.
This press release is not an offer of securities, or a solicitation for purchase, subscription or sale of securities in the United States of America or in any other jurisdiction in which it would be unlawful to do so.
Forward-looking Statements 
This press release may contain forward-looking statements within the meaning of the United States Private Securities Litigation Reform Act of 1995 that involve known and unknown risks, uncertainties and other factors, including risk factors identified in the Company's SEC filings, and which may cause the actual results, performance or achievements of the Company to be materially different from any future results, performance or achievements expressed or implied by the forward-looking statements. Risks and uncertainties include, without limitation, changes in the regulatory environment affecting the sale and use of cannabis or hemp products and of other, potential lines of businesses that the Company will consider entering at a given time, demand for the Company's products, internal funding and the financial condition of the Company, product roll-out, competition, our dependence upon our commercial partners, variations in the global commodities markets and other commercial matters involving the Company, its products and the markets in which the Company operates or seeks to enter, as well as general economic conditions. The forward-looking statements in this press release are made only as of the date hereof, and unless otherwise required by applicable securities laws, the Company disclaims any intention or obligation to update or revise any forward-looking statements, whether as a result of new information, future events or otherwise.
Caution Regarding Cannabis Operations in the United States 
Investors should note that there are significant legal restrictions and regulations that govern the cannabis industry in the United States. Marijuana, as defined in the U.S. Controlled Substances Act, remains a Schedule I drug under the respective act, making it illegal under federal law in the U.S. to, among other things, cultivate, distribute or possess cannabis. Financial transactions involving proceeds generated by, or intended to promote, cannabis-related business activities in the U.S. may form the basis for prosecution under applicable U.S. federal money laundering legislation. Please carefully review the Company's SEC filings with respect to related risk factor.
Photos accompanying this announcement are available at
https://www.globenewswire.com/NewsRoom/AttachmentNg/49bca5db-16c6-4bc6-8e87-1e3648020a7d
https://www.globenewswire.com/NewsRoom/AttachmentNg/17de15d6-9871-4c15-a0ef-31ee2670df72