ESCONDIDO, Calif., Feb. 28, 2023 (GLOBE NEWSWIRE) -- One Stop Systems, Inc. (Nasdaq: OSS), a leader in AI Transportable compute and storage solutions at the edge, has been invited to present at the 35th Annual ROTH Conference being held at The Ritz Carlton, Laguna Niguel in Dana Point, California on March 12-14, 2023.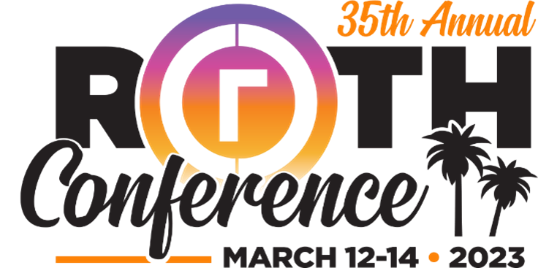 The conference will feature on-demand presentations by companies across a range of industry sectors, in-person one-on-one and small group meetings, thematic industry panels and fireside chats.

Past conferences have attracted more than 5,000 attendees, including institutional investors, family offices, high-net-worth investors, and equity analysts.
OSS CEO David Raun will participate in one-on-one meetings with analysts and investors. He will be joined by company CFO John Morrison.
Management will discuss the company's opportunities in AI Transportables, the fastest growing segment of edge computing that requires the highest level of performance in the most challenging environments without compromise. The company's leadership in this market produced strong results in the third quarter of 2022, with revenue up 18% to a record $18.8 million and non-GAAP EPS of $0.03.
To submit your ROTH Conference registration request, click here. To schedule a one-on-one meeting with OSS, please contact your ROTH representative. For questions or further information about OSS, please contact Ron Both of CMA at (949) 432-7557, or submit your request here.
About ROTH Capital Partners
ROTH Capital Partners is a relationship-driven investment bank focused on serving emerging growth companies and their investors. As a full-service investment bank, ROTH provides capital raising, M&A advisory, analytical research, trading, market-making services and corporate access. Headquartered in Newport Beach, CA, ROTH is privately held and employee owned. For more information on ROTH, please visit www.roth.com.
About One Stop Systems
One Stop Systems, Inc. (Nasdaq: OSS) is a global leader in AI Transportable solutions for the demanding 'edge.' It designs and manufactures the highest performance compute and storage products that enable rugged AI and autonomous capabilities without compromise. These hardware and software platforms bring the latest data center performance to the harsh and challenging applications, whether they are on land, sea or in the air.
OSS products include ruggedized servers, compute accelerators, flash storage arrays, and storage acceleration software. These specialized compact products are used across multiple industries and applications, including autonomous trucking and farming, as well as aircraft, drones, ships and vehicles within the defense industry.
OSS solutions address the entire AI workflow, from high-speed data acquisition to deep learning, training and large-scale inference, and have delivered many industry firsts for industrial OEM and government customers.
As the fastest growing segment of the multi-billion-dollar edge computing market, AI Transportables require—and OSS delivers—the highest level of performance in the most challenging environments without compromise.
OSS products are available directly or through global distributors. For more information, go to www.onestopsystems.com. You can also follow OSS on Twitter, YouTube, and LinkedIn.
Forward-Looking Statements
One Stop Systems cautions you that statements in this press release that are not a description of historical facts are forward-looking statements. These statements are based on the company's current beliefs and expectations. The inclusion of forward-looking statements should not be regarded as a representation by One Stop Systems or its partners that any of our plans or expectations will be achieved, including but not limited to, the final revenue attributable to this order, the timing of shipments to the Army, the fitness of the product for any visualization or AI inference application, if and when the Army may begin utilizing the purchased systems, or the vehicles on which the systems are deployed. Actual results may differ from those set forth in this press release due to the risk and uncertainties inherent in our business, including risks described in our prior press releases and in our filings with the Securities and Exchange Commission (SEC), including under the heading "Risk Factors" in our Annual Report on Form 10-K and any subsequent filings with the SEC. You are cautioned not to place undue reliance on these forward-looking statements, which speak only as of the date hereof, and the company undertakes no obligation to revise or update this press release to reflect events or circumstances after the date hereof. All forward-looking statements are qualified in their entirety by this cautionary statement, which is made under the safe harbor provisions of the Private Securities Litigation Reform Act of 1995.
© 2023 NVIDIA Corporation. All rights reserved. NVIDIA, the NVIDIA logo, Jetson AGX Orin, and NVIDIA Orin are trademarks and/or registered trademarks of NVIDIA Corporation in the U.S. and other countries. Other company and product names may be trademarks of the respective companies with which they are associated.
Media Contacts:
Katie Rivera
One Stop Systems, Inc.
Tel (760) 745-9883
Email contact
Tim Randall
CMA Media Relations
Tel (949) 432-7572
Email Contact
Investor Relations:
Ronald Both or Grant Stude
CMA Investor Relations
Tel (949) 432-7557
Email contact
A photo accompanying this announcement is available at https://www.globenewswire.com/NewsRoom/AttachmentNg/56ef3226-1322-4b0a-9039-3b8cab878dfc