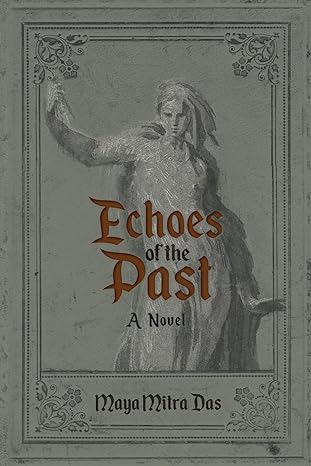 A Tale of Two Distinguished Gentlemen - Bridging Centuries Through Passion and Creativity
Author's Tranquility Press is proud to unveil an enchanting literary masterpiece that transcends time and connects two remarkable souls. "Echoes of the Past" by the talented author Maya Mitra Das is now available on Amazon.
In the words of the Renaissance Italian sculptor, Niccolo Bardi, "Creativity flows like an endless river flowing through all the areas of work and profession. When the stream flows through the creator, he is the one who can guide and make it unique and alive." Guided by this timeless wisdom, "Echoes of the Past" immerses readers in the captivating narratives of two distinguished gentlemen whose lives are bound by an enduring passion for creativity.
15th Century Florence - Niccolo's Journey:
Niccolo, a renowned Italian sculptor, breathes life into marble with an artistic prowess that transcends mere craftsmanship. His philosophy, deeply rooted in the creative process, mirrors his belief that every sculpture is an opportunity to infuse life into the inanimate. Niccolo's artistry becomes a vessel for the transmission of feelings, a journey that allows both creator and observer to simultaneously find and lose themselves in the beauty of his creations. To Niccolo, art is a transformative fire that consumes the soul.
20th Century, Newcastle-upon-Tyne, England - Rudy's Odyssey:
Leaving behind all that was familiar, Rudy, a renowned neurosurgeon from India, embarks on a new life in England. As he immerses himself in the biography of Niccolo, he discovers an unexpected connection that transcends centuries. Despite the temporal chasm that separates them, Rudy and Niccolo share an unwavering dedication to their crafts, art, family, and love. Niccolo's vision from the 15th century proves to be universal and timeless. His belief that "creativity is like an endless stream that flows to all areas of work" resonates deeply with Rudy's life as a doctor. Through triumphs and challenges, Rudy comes to realize that the power to make anything unique and alive resides within the creator's touch.
"Echoes of the Past" is not just a book; it's a bridge between eras and a testament to the enduring spirit of creativity. Maya Mitra Das weaves together these two extraordinary stories, demonstrating how the pursuit of passion and dedication can echo across the centuries, inspiring us all to breathe life into our endeavors.
Discover the profound connections between Niccolo and Rudy in "Echoes of the Past" by Maya Mitra Das, available now on Amazon. This beautifully crafted narrative will transport you through time, celebrating the timeless essence of creativity and the unbreakable thread that binds us all.
About the Author:
Maya Mitra Das is a gifted storyteller who effortlessly bridges the past and the present through the art of literature. "Echoes of the Past" is a testament to her skill in capturing the enduring beauty of human creativity and the unending quest for artistic expression.
About Author's Tranquility Press
Author's Tranquility Press is a top publicity agency known for delivering innovative solutions designed to help writers across genres to reach a wider audience. The company combines the use of the latest technologies and the expertise and diverse experience of the team to provide quality, relatable content to as many people as possible, irrespective of their location across the globe.
Media Contact
Company Name: Author's Tranquility Press
Contact Person: Patricia Adams, Marketing Supervisor
Email: Send Email
Phone: 8664118655
Address:3800 CAMP CREEK PKWY SW BLDG
City: Atlanta
State: GA
Country: United States
Website: www.authorstranquilitypress.com/