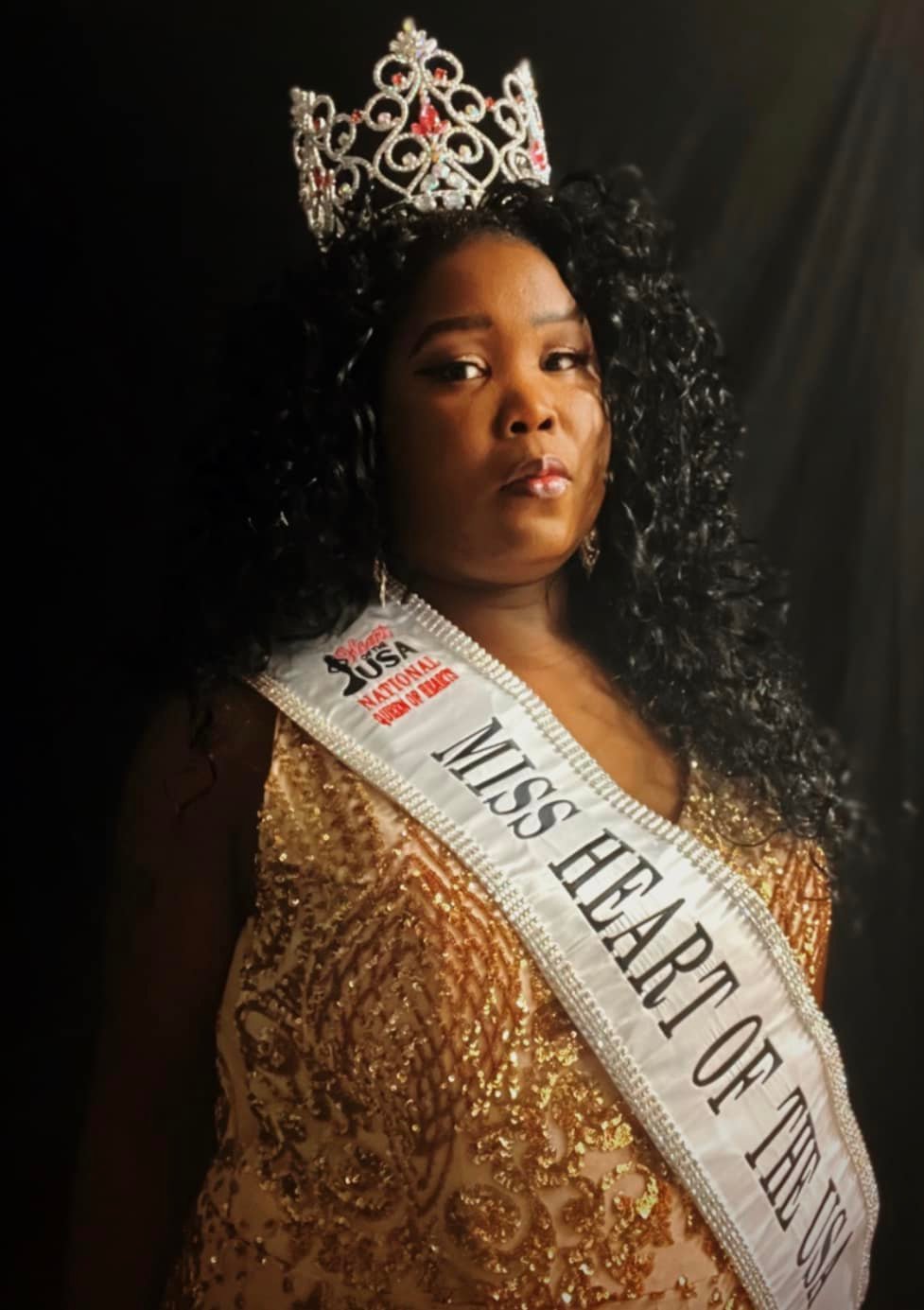 Dr. Chanell Dingle-Sermon, the newly crowned Miss Heart of the USA Queen of Hearts, posing in her crown and sash.
One South Carolina educator competed in the 2022 Miss Heart of the USA national pageant and brought home the title as "National Miss Heart of the USA Queen of Hearts" in her first national pageant ever.
On July 2, 2022 in Orlando, Florida, one South Carolina woman became the "2022 National Miss of Heart of the USA Queen of Hearts" in the Miss Heart of the USA upon receiving her crown in a national pageant. Dr. Chanell Dingle-Sermon, a graduate of Capella University who holds a Doctor of Education degree in Curriculum and Instruction, is a teacher, minister, and life coach. She secured her first pageant title as "South Carolina Elite Ms. Heart of the USA" on December 17, 2021 through entering and winning an online photo contest sponsored by the Miss Heart of the USA pageantry, founded by Mrs. Ciera Ingram in 2008. She won the "National Miss Heart of the USA Queen of Hearts" title in her first national pageant on the first attempt. She participated in all the optional areas of competition such as an interview, fashionista, patriotic wear, heart wear, and formal wear in addition to having the largest amount of food and monetary donations combined brought to the national pageant with the help of her students.
The Miss Heart of the USA pageant, began as a county pageant to aid with the Dothan Rescue Mission in Alabama, is a "pageant with a purpose" that encourages women nationally to be active in their communities with "Hearts, Heels, and Helping Hands". Dr. Sermon has been very active in her community and empowering women nationally to give back to their communities through service. She has her own nonprofit organization, Kappa Epsilon Lambda Royal Christian Sorority, Incorporated, that is the recipient of the Gold President's Volunteer Service Award and has won the I AM H.E.R. International "Nonprofit of the Year" Award for 2022. She has also helped a school in a rural district earn the Gold President's Volunteer Service Award through implementing a service learning program onsite for students along with helping them to win $1,000 in a school wellness initiative.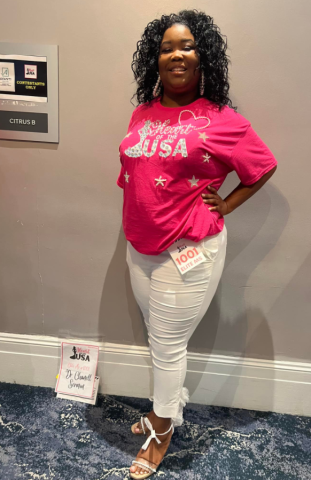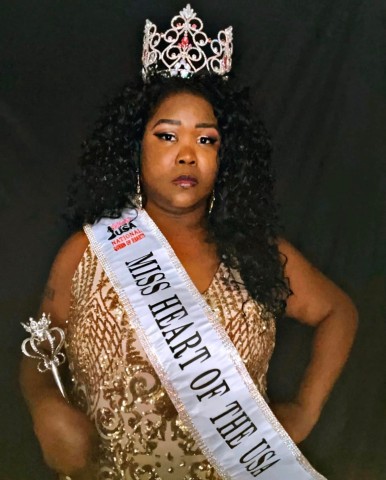 Aside from service, Dr. Sermon is the I AM H.E.R. International "Teacher of the Year" for 2022. She has taught in a rural school district for over a decade seeking to strengthen the appreciation of visual arts through showing its relevance to education and the critical roles that it has played in society. "Systemically, many professionals in education fail to see why art is important as a subject. This affects how art is regarded in some school systems and even the treatment of art educators. But when you really look at it, we are naturally attracted to things based on how they look. When people look to start a business, what do they look for? A logo for their brand. Someone has to design that logo. When people look to buy cars and homes, what do they look for? An item that looks presentable according to their personal preferences. Someone has to design those things too. The majority of things that we buy is based on how it looks to us which can make a difference in promoting a business or communicating ideas to others among other benefits of having art education in our schools. But these are only some of the reasons why teaching art is important," Dr. Sermon states. Additionally, she has won over $4,200 for her classroom and school through writing education grants and for her participation in an incentive-based wellness initiative sponsored by the Medical University of South Carolina (MUSC) Boeing Center for Children's Wellness.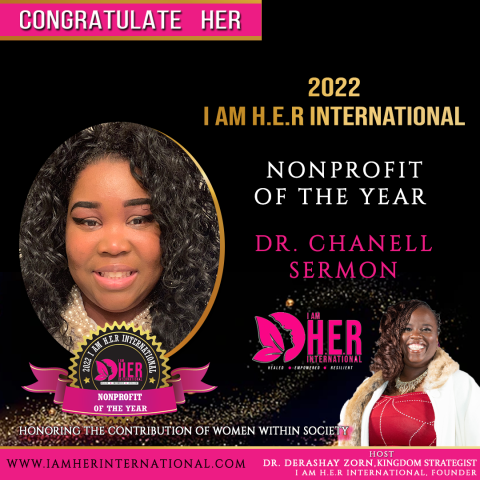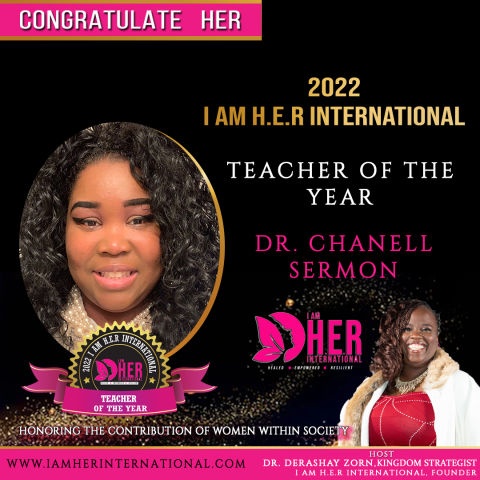 During her reign, she will use the pageant platform to uplift and empower those with self-worth issues while advocating for mental health and against domestic violence. "This accomplishment is important to me because many people need to be able to identify with someone that overcame esteem issues that have been inflicted upon them during their childhood. People need to hear my story. People need hear how I had the worst labels in the family because they believed that I wasn't pretty enough, brave enough, and worthy enough to be heard and respected among other things. These types of criticisms need to stop because the stigmas are preventing people from living their dreams and getting the help they need due to fear of what other people think. I just want to be that hero to the people that see themselves as 'not good enough'", she states. "I overcame my childhood trauma with God's Mercy because there were days that I didn't think I would live to see adulthood due to experiencing domestic abuse and violence. But in the midst of those circumstances, I chose to persevere. I learned that in order to heal from your childhood past traumas or any emotional trauma, you have to get away from the ones that will continue to keep those wounds open, even if it is family members."
To empower others to appreciate their value, Dr. Sermon says, "No one has the right to tell you that you're not important, that you're not valuable, to tell you who you are, to give you a name, to give you a label that's less than what God has intended for you to have." 
To learn more about Dr. Sermon, visit https://www.iamprettydoc.com/.
Miss Heart of the USA website: https://missheartoftheusa.com/2022-national-queens
I AM H.E.R. International website: https://www.iamherinternational.com/ 
Media Contact
Company Name: Kappa Epsilon Lambda Royal Christian Sorority, Incorporated
Contact Person: Dr. Chanell Dingle-Sermon
Email: Send Email
Country: United States
Website: https://www.iamprettydoc.com/