As an investor, the main goal to start an investment journey is to create passive income from holding as many as profitable assets that can offer us a good yield. Traditionally, people will stick to stock or real estate as their main focus to gain passive income. The bold would go for channels like forex trading. The diversity of investment options was not that abundant until recent.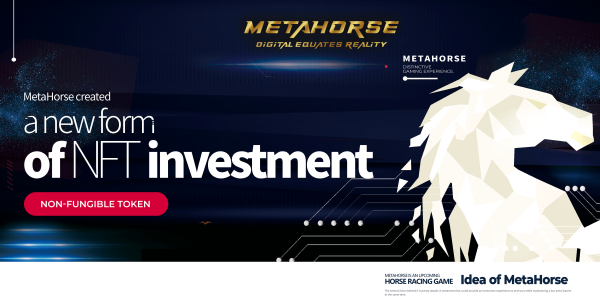 In 2021, NFT, or non-fungible token, together with 'Metaverse,' set off a new wave of investment trends. Many people only pay attention to the rise of NFT in the art world or the digital art field. Big names like Burberry, Dolce&Gabbana, Ralph Lauren, and others from the fashion industry have started developing their NFT.
However, the potential of NFT is not just about the commercial value of art. MetaHorse was able to explore a different way to really extract the real possibility of the NFT. As a non-fungible token, NFT has the characteristics of indivisible, irreplaceable, and unique. It is not the same as a currency like Bitcoin. MetaHorse discovers the potential behind the virtual world of horse breeding and racing and perfectly integrates it with the real world. In other words, his value will be bound with the actual value of the real world. The investment value you have in MetaHorse exists in reality. Therefore, MetaHorse will be able to play the future value of NFT and lead the new wave of the trend.
New Horse, New Game
MetaHorse is an upcoming horse racing game developed on the Binance Smart Chain (BSC) blockchain. The game was first announced in March this year and described as "a user-centric, NFT collection and horse racing game built on BSC network."
The development team uses what we called "user-centric" as their primary approach to the game's design; the player will be able to own, trade, nurture their horses, just like raising a kid.
Metaverse has the potential to really become the next evolution of the internet. However, the true metaverse where lifelike interactions are realizable is still years away from now.
Discord Links: https://discord.gg/mSDqGja5zE
Media Contact
Company Name: METAHORSE
Contact Person: John Chin
Email: Send Email
City: Dubai
Country: United Arab Emirates
Website: https://themetahorse.io/